$3M to engineering college from Gleason Foundation
Donation to be used to grow new chemical and biomedical engineering programs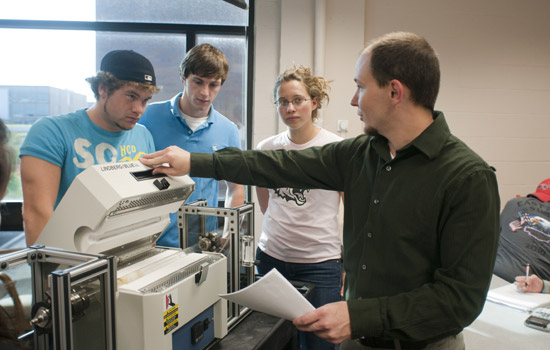 RIT Development
The Kate Gleason College of Engineering at Rochester Institute of Technology continues to enhance its status as one of the top engineering colleges in the nation. In recognition of that effort, the Gleason Family Foundation has committed $3 million to the engineering school to create the Gleason Family Foundation Faculty Development Fund.
The gift will be used to recruit and hire talented faculty for the newly established chemical and biomedical engineering degree programs and to assist the new faculty as they establish laboratory facilities and resources for student learning and research.
"Only a donor with a profound commitment to a college and a deep understanding of its promise of delivering excellent educational value to every student would bestow such a gift," says RIT President Bill Destler. "The Gleason Family Foundation is just such a donor, and we are deeply grateful to both the foundation and the Gleason family for the support they have provided to RIT and the Kate Gleason College for more than 50 years."
The chemical engineering program was launched in 2009 and currently has more than 120 students enrolled. The biomedical engineering program, recently approved by the New York State Department of Education, welcomed its first class of nearly 40 students this past September. The chemical engineering program emphasizes critical areas such as nano-scale engineering and alternative energy, while the biomedical engineering program focuses on systems biology and engineering analysis for the biomedical industry sector.
"Both programs were structured to address the evolving needs of our current and aspirational industry partners, to maximize the impact that our graduates can have in the marketplace," says Harvey Palmer, dean of the Kate Gleason College of Engineering. "We in the College are humbled by the strong endorsement of the quality of our programs that is reflected in this gift from the Gleason Family Foundation and by the level of confidence that the foundation has in our ability to deliver on our vision of creating two new leading-edge, forward-thinking undergraduate programs."
The Gleason family, its foundation and company, Gleason Corp., have been long-time supporters of RIT and the engineering college. In 1998, the college was named after Kate Gleason, one of the first female engineering students in the nation and the first woman to be granted membership in the American Society of Mechanical Engineers.
##