40 years and counting: Athletics director says he still has more to do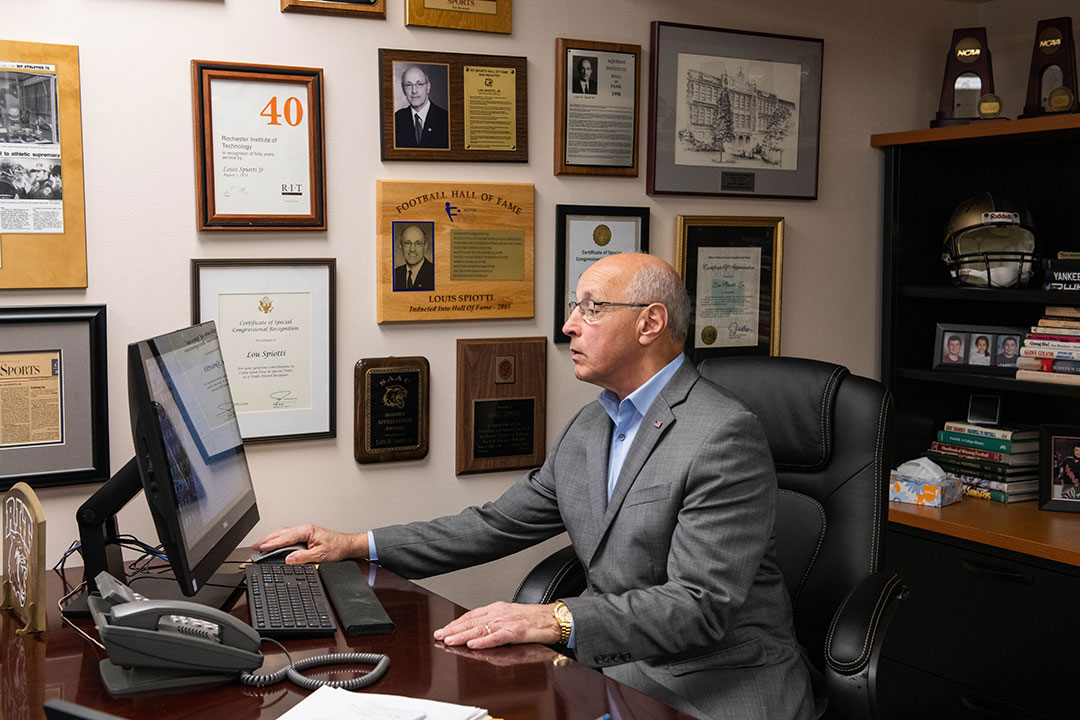 Gabrielle Plucknette-DeVito
Lou Spiotti Jr. will begin his 40th season as executive director of Intercollegiate Athletics at RIT this fall.
He is one of a few directors in all of college athletics—Division I, II and III—to serve in that position for 40 years.
Spiotti, who arrived at the university in 1974 as head football coach, was named athletics director in 1980. Under Spiotti's leadership, the program has experienced unprecedented growth and development.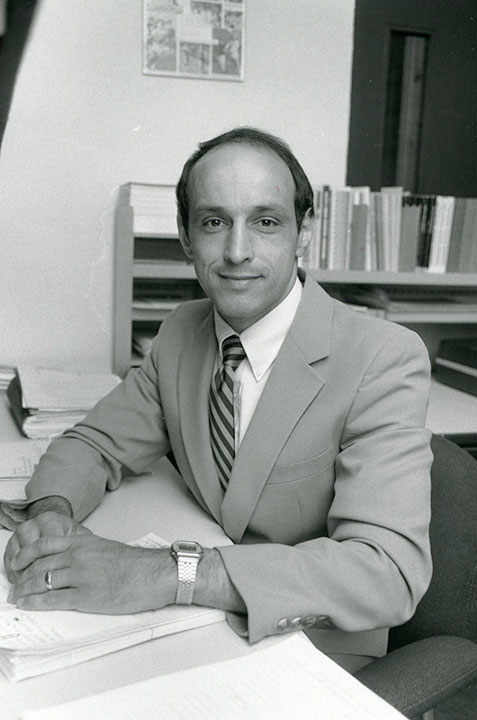 When Spiotti was tasked with leading athletics, RIT had just 15 sports, 10 for men and only five women's teams. Today, the program consists of 24 sports (12 for both men and women) and 650 student-athletes.
"Lou is the consummate professional as the director of athletics," said Bob DeGregorio, commissioner of Atlantic Hockey Association and College Hockey America, who has worked with Spiotti since the mid-1980s. "He is one of the best all-around directors of athletics that I have worked with during my 42 years in intercollegiate athletics."
A discussion early in his tenure with then-RIT President M. Richard Rose would set the tone and provide a blueprint for how athletics would be regarded at the university.
"Dr. Rose was adamant on three points of emphasis," said Spiotti. "First, athletics would be used to serve the student first and athlete second. No. 2, (athletics) should be a catalytic agent for school spirit. No. 3, it would be an outward extension of the university toward our alumni. Those three things still exist today."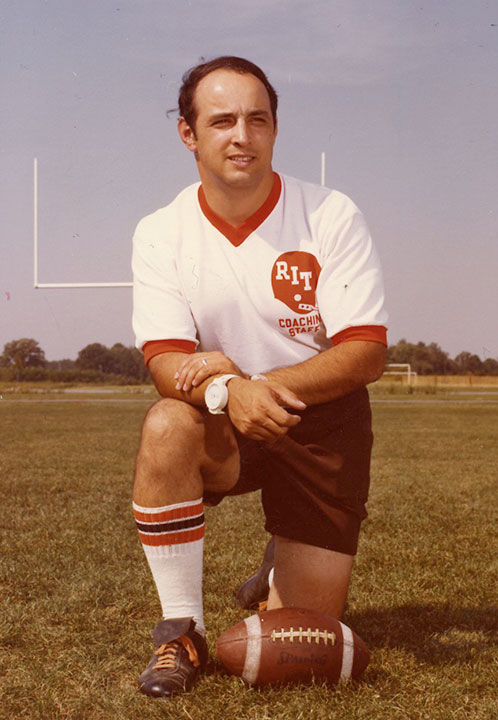 Within the first few years, Spiotti brought in energetic, up-and-coming coaches Doug May (men's soccer), Brian Mason (men's hockey), Bob McVean (men's basketball) and Bill Tierney (men's lacrosse).
Almost immediately, those four coaches moved RIT into local and national prominence. Men's hockey won the Division II national championship in 1983 and two years later, under Bruce Delventhal, won the Division III championship. Men's soccer and men's lacrosse became perennial national championship contenders, while men's basketball under McVean recorded 20 consecutive winning seasons.
In 2005, men's hockey, under current head coach Wayne Wilson, made the jump to Division I and enjoyed immediate success, advancing to the Frozen Four in 2010.
If the mid-1980s were the start of RIT's golden era of athletics, the late 2010s can be considered the platinum period.
In 2012, women's hockey won the Division III Championship, RIT's first national title for a women's program, and moved to Division I the following season.
Division III sports have enjoyed their finest collective multi-year run ever coinciding with RIT's move to the Liberty League in 2011.
Women's basketball has made three straight NCAA Tournament appearances, while men's lacrosse has now won 10 consecutive league titles and is a perennial national power.
Baseball and women's crew both made their first NCAA Tournament appearances in 2017, while volleyball, women's soccer, wrestling, men's and women's cross country and track and field have all enjoyed national prominence.
"Lou has been an outstanding mentor throughout my career here at RIT as well as a trusted friend," said RIT women's basketball head coach Amy Reed. "It's always so great to have an athletics director who has a coaching background. I've gone into his office countless times to seek advice about my program, and he always has incredible insight."
A strong athletics profile is impressive. Even more remarkable, however, is the message Spiotti conveys to his student-athletes about excelling in the classroom and becoming leaders in the community.
RIT's student-athletes combined to post a 3.35 cumulative grade-point average during the 2018-19 season, with nearly 50 Academic All-Americans and 250 Academic All-League selections.
"I thrive on seeing the goodness that our student-athletes bring," Spiotti said. "I still see myself being very much a student-athlete advocate—a person who wants to see our athletes get the very best possible experience they can at the university through the athletics program. I want them to become better people when they leave."
Facilities for the athletics programs continue to improve. The Gene Polisseni Center, RIT's 4,300-seat arena, opened in 2014. Nearly every sport has renovated and expanded locker rooms.
More upgrades are planned, which are sure to continue RIT's ascent to greatness.
"I think we are on the cusp of doing great things that will position us on another level and put us in a far better spot to recruit great student-athletes," said Spiotti. "There's still work to do. I am anxious to do it. I want to roll up my sleeves and get to it."
Topics