About the search process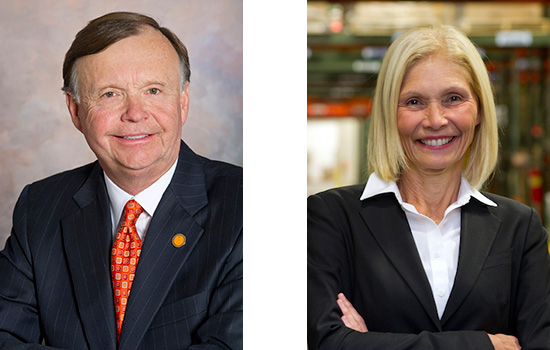 The search for RIT's 10th president began in June, and it did not take long for impressive candidates to come forward.
A 24-member search committee, made up of students, faculty, staff, alumni, administration and trustees, narrowed the pool of candidates before the final selection by the Board of Trustees. The committee was led by Trustee and past Board Chair Brian Hall.
"We reviewed top-flight résumés from candidates with diverse backgrounds," said Hall, who received an MBA from RIT in 1978. "The breadth and depth of interest in this position from extremely highly qualified people was significant. These were remarkable people with impressive backgrounds."
The trustees ultimately selected David C. Munson Jr., the former Robert J. Vlasic Dean of Engineering at the University of Michigan.
"The difficult part was selecting the best of the very best," said Hall. "The caliber of the candidates speaks to where RIT's reputation stands today."
Hall and Christine Whitman, chair of the RIT Board of Trustees, thanked members of the Presidential Search Committee for their diligent work throughout the process. The search process involved receiving input from multiple constituent groups, including RIT alumni chapters across the nation.
"We said from the start that the RIT presidency would be an extremely attractive position in the world of higher education," said Whitman. "We were pleased with the process and the ultimate selection. Dr. Munson is the right leader at the right time to accelerate our university's upward trajectory."