Accreditation evaluation team to visit RIT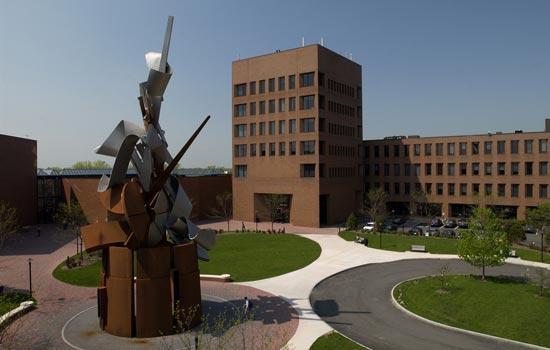 RIT is getting ready for its 10-year checkup with an outside accreditation team.
The university's reaccreditation process began in 2015. The next phase with the Middle States Commission on Higher Education (MSCHE) involves an evaluation visit. A nine-member evaluation team, consisting of faculty and administrators from peer institutions, is on campus April 2 through 5.
"The team has read our self-study report and will evaluate how accurately the report reflects our reality," said Anne Wahl, assistant provost and co-chair of the accreditation Steering Committee. "They will ask questions for clarification, and/or request additional documentation." Michael Laver, associate professor and chair of the history department, served as the other co-chair.
The executive summary of the self-sudy report provides an overview of the findings and highlights 14 recommendations and 13 suggestions offered to improve RIT.
RIT's evaluation team is chaired by Anthony Collins, president of Clarkson University. Selected students, faculty, staff and trustees will be invited by the evaluation team to formally participate in a group or an individual meeting with one or more of the evaluators. The team will make a recommendation to MSCHE regarding RIT's re-accreditation status.
Prior to visiting the Henrietta campus, Collins will be visiting RIT Dubai and RIT Croatia (Zagreb location). It's the first time accreditors have visited RIT's global locations, which speaks to the internationalization of the university, explained Wahl.
The focus of MSCHE accreditation is on mission, the student learning experience, quality, and institutional effectiveness, said Wahl. Other benefits and value of the accreditation include:
Opportunity for RIT to reflect and demonstrate engagement in continuous improvement, commitment to excellence;
Opportunity to highlight the value of an RIT degree;
The Self-Study Report provides support for RIT's Strategic Plan: Greatness Through Difference implementation;
Successful reaccreditation allows the university to continue to provide Title IV financial aid for students;
The review provides an opportunity to celebrate RIT's successes and identify future opportunities for improvement.
Collins and the accreditation team will present a preliminary report of their findings at 9:30 a.m. April 5 in an open forum in Ingle Auditorium. The event also will be streamed live on the web. RIT will have an opportunity to respond to the evaluation team's findings by May with hope of a final accreditation decision by MSCHE in June. For more information, go to RIT's MSCHE Accreditation Website.