Alumna, family create award for students
Award will benefit both students and faculty mentors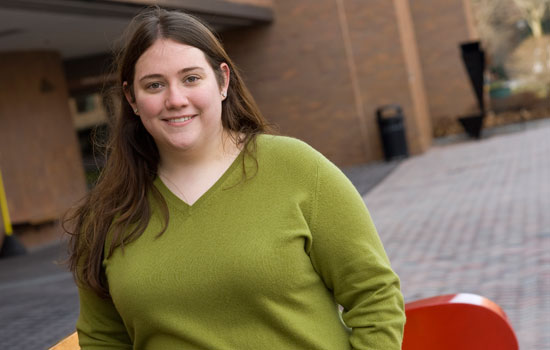 A. Sue Weisler
RIT alumna Ashley Aberg, a 2012 graduate from the College of Liberal Arts, is hoping an award created by her family will provide substantial financial assistance to RIT students looking to promote their research.
The Aberg Family Travel Award—an annual award worth up to $5,000—will help cover expenses incurred in conjunction with attending a conference or academic event in order to promote better understanding of the work of a student minoring in science, technology and society. The award—set up by Aberg and her parents, Peter and Randy—is to be split between the student and his/her faculty mentor.
One of the highlights of Aberg's tenure studying at RIT was working alongside professor and mentor Deborah Blizzard on research associated with the ethical dilemmas faced by parents of intersex infants, the population of about 2 percent of newborns who are born with reproductive or sexual anatomies that don't fit the typical definitions of female or male.
This successful student-faculty partnership resulted in a trip to Madrid in 2011, where Aberg presented her research in front of accomplished scientists and physicians at the International Association for the Study of Sexuality, Culture and Society conference. Aberg graduated from RIT in 2012 with a bachelor's degree in philosophy and minors in psychology and science, technology and society.
"We are thrilled to be able to support Dr. Deborah Blizzard and the science, technology, and society program," says Randy Aberg. "We hope that this gift will encourage future science, technology, and society minors to take advantage of the individualized teaching and mentoring opportunities that the program offers."
"The faculty and staff in the science, technology and society program are thankful to receive such a generous gift from the Aberg family," says Blizzard, associate professor and program chairperson. "These funds will help us to continue mentoring our students through a variety of educational experiences and events off campus both within the United States and abroad."
The inaugural award will be presented during spring quarter.