Alumna makes her mark on local art scene with second downtown sculpture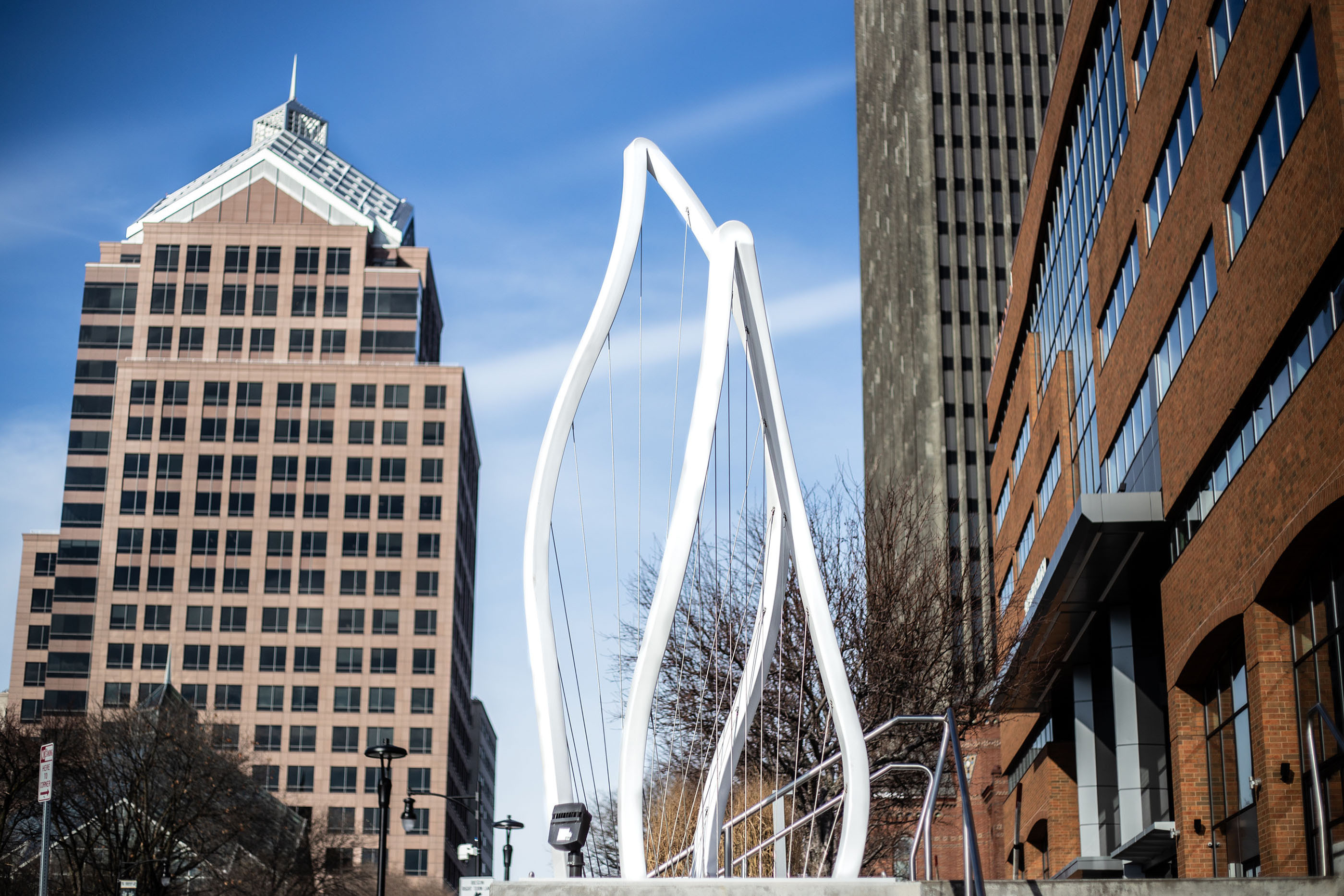 A recently constructed sculpture in downtown Rochester symbolizing hope and inspiration has special meaning to Julia Manson '17 (metals and jewelry design MFA). 
For one, she is the artist of the piece, titled "Gateway." But the tall steel sculpture's essence also brings Manson to happily reflect upon her time at Rochester Institute of Technology's College of Art and Design, where she grew as an artist in graduate school. 
"This sculpture, in particular, comes back to me personally," said Manson, from Bradenton, Fla. "It's about growth and moving forward and upward in life. I think that definitely relates to the experience I had at RIT."
Manson was commissioned by Peter Landers, a co-owner of local office building 3 City Center, to create a structure with an "inspiring feeling." Manson brought those emotions to life with the piece installed last spring outside 3 City Center, on the corner of South Clinton Avenue and Woodbury Boulevard. 
The work is a pair of close-positioned structures — 14 and 11 feet tall, respectively — spiraling to the sky with twisted steel wire running through each. It stands on a four-foot pedestal, adding to its prominence, in both a physical and abstract sense. 
"3 City Center is at the physical gateway to downtown, and so the thinking was to send an uplifting, positive message of hope and prosperity to people as they drive into downtown," Landers said. "… It looks great. People love it. It was a great collaboration between us. We had a lot of fun going back and forth with ideas."
Manson worked on "Gateway" through the summer and fall of 2017 — when she taught foundation courses in RIT's School of Design on an adjunct basis. She then moved to Austin, Texas, where she is freelance artist and jewelry designer at Caleesi Designs Jewelers.
Especially when paired with the spotlight on the base that accents and illuminates the piece at night, "Gateway" adds an aesthetic element to the area around 3 City Center, whose new tenants include Allied Universal, High Falls Advisors, M&T Bank's regional headquarters and the recently opened Native Eatery and Bar. The building was purchased in 2016 by Three City Center Partners, an investor group "committed to the resurgence of downtown Rochester," according to the 3 City Center website. It has undergone a major transformation since.
"('Gateway') has this upward motion," Manson said, "and I just kind of wanted to convey this inspiring feeling of hope and prosperity throughout the city, considering where it was going and what (Three City Center Partners) were hoping to achieve."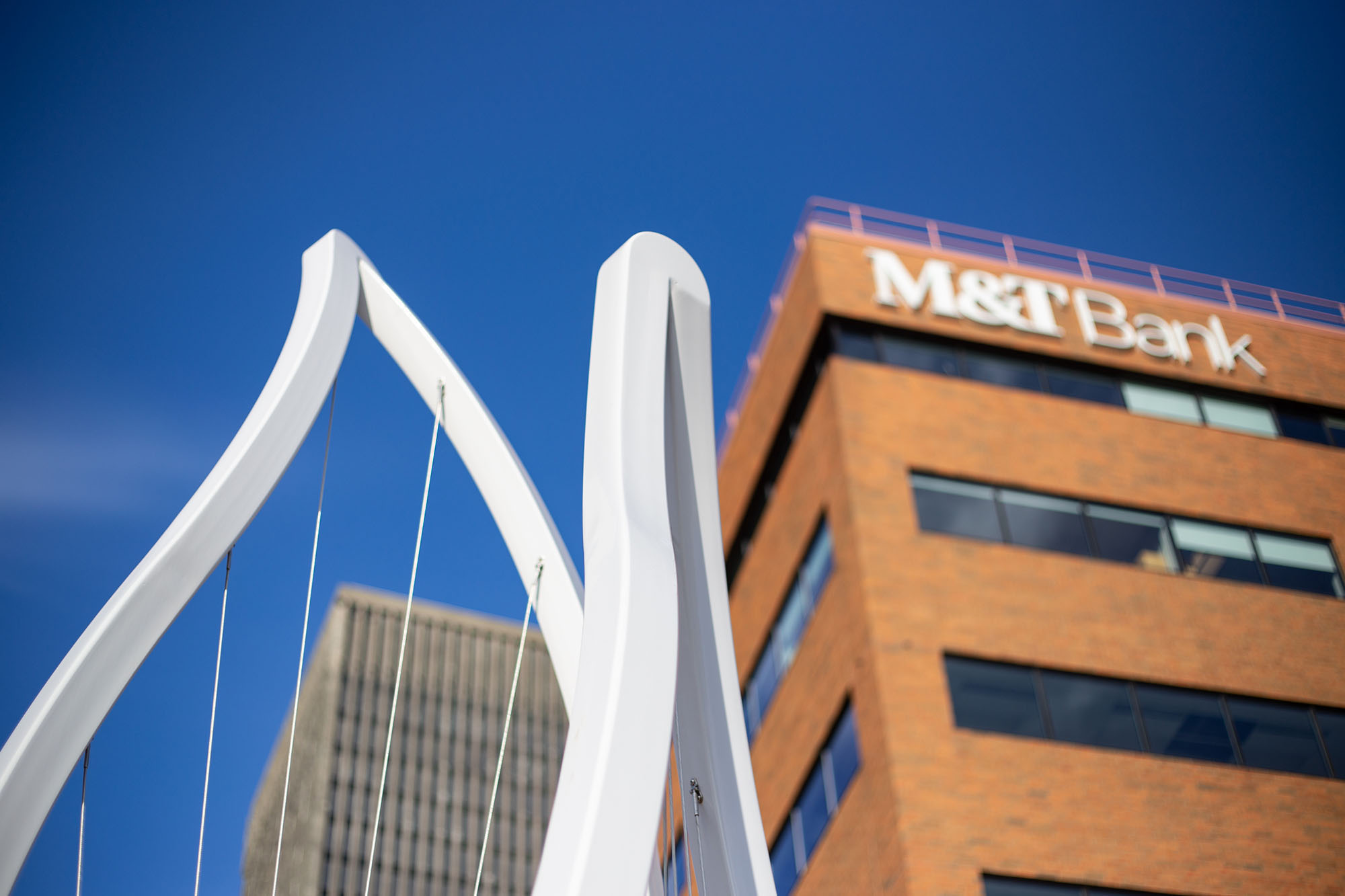 This is not Manson's first substantial commission in Rochester as one doesn't have to venture far from "Gateway" to get the full picture of Manson's artistic influence on the area. Another sculpture of hers stands across the street from 3 City Center, in Geva Theatre Center. In 2016, Manson won a competition held by RIT's College of Art and Design to commission a sculpture for Geva Theatre's newly renovated lobby.
"It's a great feeling," Manson said of leaving an impression on the Rochester arts scene. "It's given my career and what I want to do a lot of direction. When I went to RIT I was going for jewelry design and I never really imagined doing stuff like this. But now that these opportunities have come into my life it's definitely something I'm pursuing more."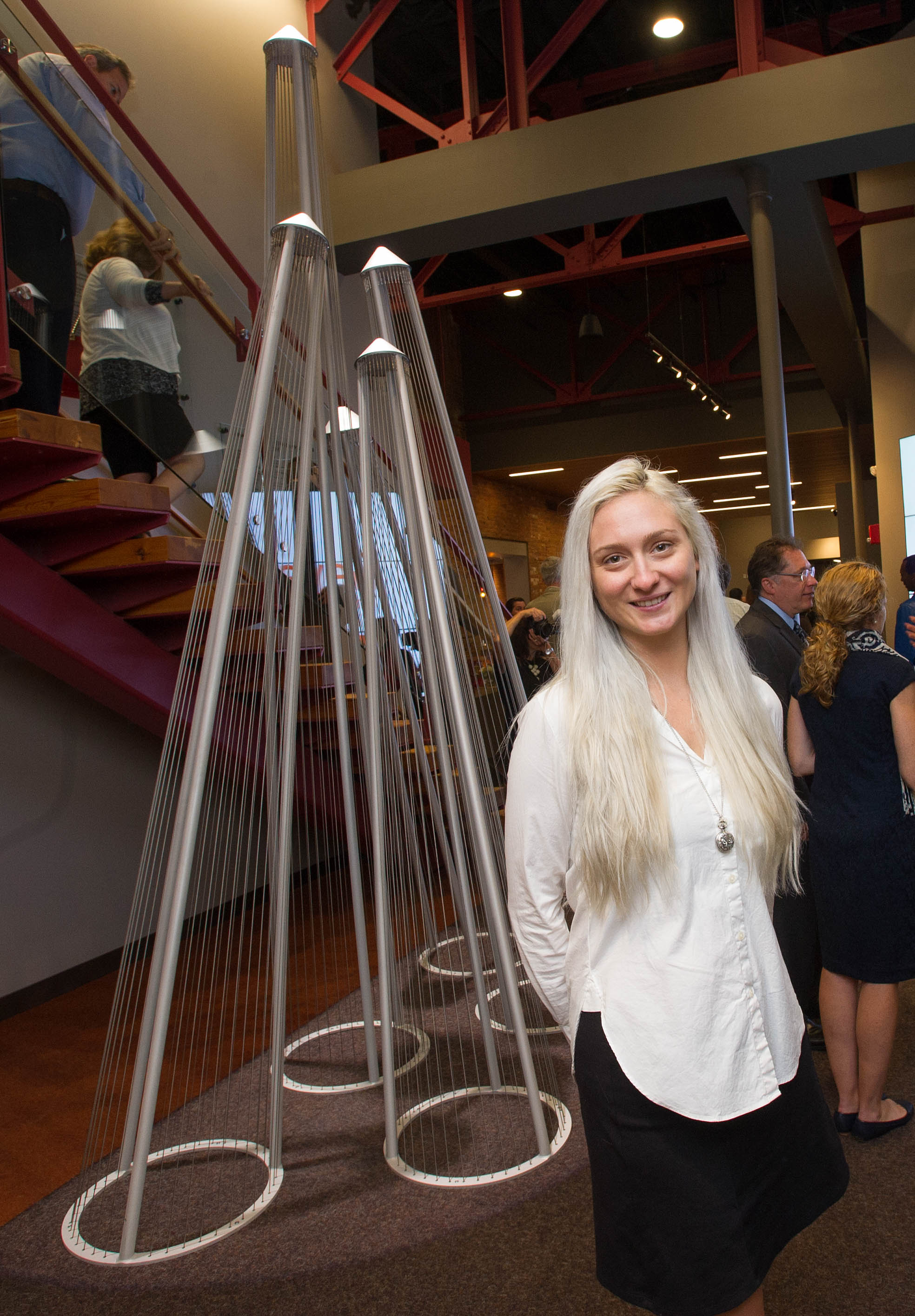 Manson said she was attracted to RIT because she was "interested in doing something artistic and the professors had a great reputation." She credits RIT metals and jewelry design faculty Juan Carlos Caballero-Perez and Len Urso with developing her into a more versatile artist.
"They instilled this idea that there is so much more that you can do than just that narrow view you get with some educations," Manson said. "They really opened my eyes to all the different possibilities within the metals world and art world."
Manson said a personal touch and high level of care from faculty gave her a valuable experience at RIT that helped lead to thrilling chances outside the classroom — like the ones at 3 City Center and Geva Theatre.
"They actively go out and find these opportunities and present them to us," Manson said. "It's a great environment to be a part of. They are super supportive. Before I even got there, I was coming up for a visit and Len Urso called me on his day off to talk to me about what my goals for my future were. They really care and they make great artists and great designers."  
Topics