Alumni give back for Global Day of Service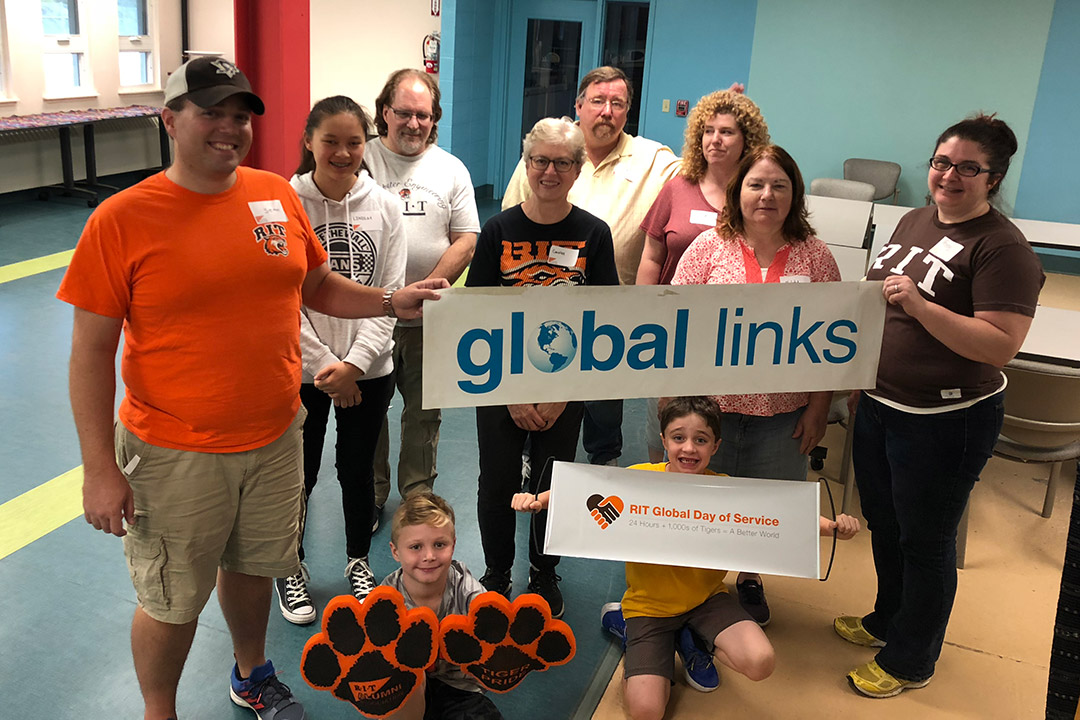 RIT Alumni Relations
For the past four years, RIT Tigers across the globe have come together on one day to make a positive impact in their communities. On Saturday, Sept. 7, alumni will have another opportunity to participate in the fifth annual Global Day of Service.
The Global Day of Service is a one-day service event where RIT alumni, their families, current parents and friends go out into their communities and participate in different service projects. This year, alumni will participate in 43 different service projects in the U.S. and three projects internationally in Peru, New Delhi and Croatia.
Sean Sims '05 (information technology) '12 MS (information technology) has participated in the Global Day of Service for the past two years in his hometown of Pittsburgh. He and his wife, Peggy Sims '04 (physician assistant), bring their two sons to the event every year.
"It's something we could do at any time, but participating during Global Day of Service provides a sense of being part of something much larger," said Sims. "It's an easy, low-pressure way to give back to the community, and knowing all the other work occurring on the same day around the globe by fellow Tigers is pretty amazing to think about."
Sims and his family will be volunteering at Global Links, where they will sort, pack and label medical supplies to be temporarily stored at the warehouse until they are shipped to those in need. Other organizations alumni will be volunteering with are Foodlink, Ronald McDonald House, local food banks, mission centers and more.
In addition to the planned projects, alumni who don't have a service event in their area can still participate by volunteering somewhere locally and posting a photo to social media with the hashtag #RITGDS.
Bill Sachman, senior associate director of chapter programs, thinks the diversity in service projects is a reflection of various interests alumni have, and his office is "happy to support any area of service that needs help."
"This event shows alumni firsthand the difference the RIT community can make. Our network is so strong. Together, we can truly make a difference in local communities. We're putting our Tiger pride to work and it's amazing to see it all happen on just one day," Sachman said.
For more information about the service opportunities in your area, go to http://www.rit.edu/alumni/GDS/. To see or share photos of service projects on social media, use #RITGDS. There will be a live feed of photos available on the above website during and after the event.
Topics