April 7, 2011
by Paul Stella
Alumnus gives $1M scoreboard for new hockey arena
Alumnus J.M. Allain and Trans-Lux Corp. to donate electronic scoreboard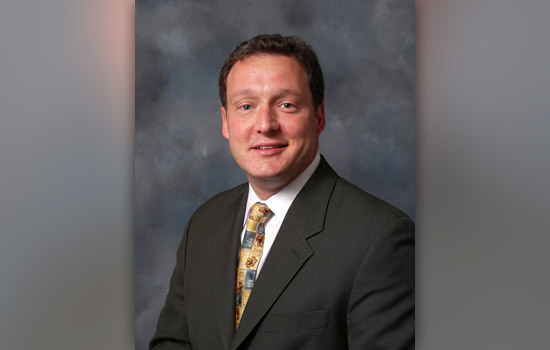 Rochester Institute of Technology has tallied additional support for its campaign to build a new ice arena. Trans-Lux Corp., a leading supplier of programmable electronic information displays, and RIT alumnus J.M. Allain have issued a commitment to "Tiger Power Play—The Campaign for RIT Hockey" valued at $1 million.
Allain, president and CEO of Trans-Lux, announced plans to donate a center-hung electronic scoreboard for the arena in support of the campaign. Specifications for the display system will be determined after the facility's design is formalized.
Allain earned a bachelor's degree in multidisciplinary studies from RIT in 2003. Having grown up in French Canada, he admits to having hockey "in my blood" and says his passion for the sport continued beyond time spent as a student spectator inside Frank Ritter Arena, the current home of RIT's men's and women's hockey programs.
"The tradition of hockey at RIT has always been great, and I'm proud to support this new effort to enhance the game experience for both players and the students," says Allain. "It means a lot personally to more closely align myself with the university and become an integral part of the planning for this new building."
"We're delighted to welcome J.M.'s generous support and the shared commitment offered by Trans-Lux to advance our campaign," states Bill Destler, RIT president. "The opportunity to incorporate the company's electronic display technology as part of our new arena is an exciting development."
Tiger Power Play—The Campaign for RIT Hockey aims to raise $15 million to support construction of a new on-campus arena that features state-of-the-art amenities and approximately doubles the seating capacity of Ritter Arena, which accommodates 2,100 fans. RIT alumni Stephen Schultz '89 (computer science), co-founder and chief technical officer at Pictometry, and his wife, Vicki Schultz '94, '99 (business administration, MBA), presented the campaign's opening gift of $1 million during its launch last November.
"The support of RIT alumni remains the driving force behind the growing momentum of our campaign," adds Destler, "and it is destined to become the overwhelming factor in its ultimate success."
The arena is expected to cost $30 million to $35 million, and RIT plans to cover the remaining expenses associated with construction of the facility. An exact location on campus and a timeframe for construction have not yet been identified.