December 13, 2017
by Ellen Rosen
Alumnus gives RIT $50 million to foster entrepreneurship and cybersecurity
Austin McChord, who graduated in 2009, makes the largest gift in university's history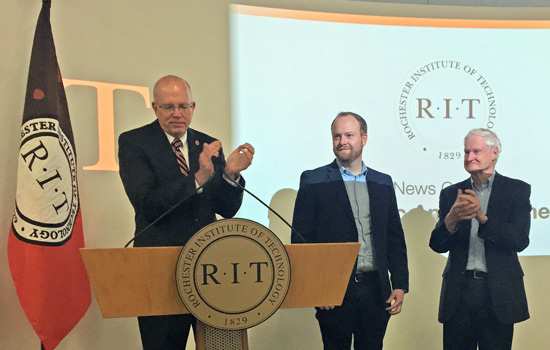 A 2009 alumnus has given Rochester Institute of Technology $50 million, the largest donation ever made to the university and one of the largest ever in the region.
The unprecedented gift comes from Austin McChord, founder and CEO of Datto, a Connecticut-based data protection company with engineering and support offices in downtown Rochester.
"A gift of this magnitude will help propel RIT from excellence to preeminence," said RIT President David Munson. "We are so proud of our alumnus Austin McChord. He was passionate about his idea and he turned it into a big success. This embodies the creative element that we want to further highlight at RIT. Every student can be involved in creating things that never before existed, and then putting the result into play. His investment in RIT will help our students and faculty make their mark on the world."
McChord, an RIT trustee, said he was inspired to make the donation by former RIT President Bill Destler, with whom he has developed a friendship.
"My goal with this gift is two-fold," said McChord. "First is to help make more resources available to students, alumni and the community at-large to create, build and innovate for the future. But it's also to help recognize those who helped you along the way. My success today would not have been possible without my time at RIT."
Destler, who retired as RIT president in June 2017, was in the audience at RIT's Student Innovation Hall as McChord announced his gift.
"I am thrilled that Austin McChord has chosen to share his success with RIT in the form of this most generous gift," said Destler. "It's truly been a pleasure to get to know him and to watch his business grow internationally as well as right here in Rochester, and I'm excited to see what the future holds for him as well as for the programs and projects this gift will support."
The gift is to be designated for use in two major areas:
$30 million to foster creativity and entrepreneurship at RIT, including $17.5 million to launch the Maker Library & Innovative Learning Complex of the Future. This will be a new facility connecting RIT's Wallace Center and the Student Alumni Union. Additional funding will go toward purchasing equipment and endowing faculty positions and student scholarships, including new "Entrepreneurial Gap Year" fellowships to help students advance their concepts into businesses.
$20 million to advance RIT's cybersecurity and artificial intelligence capabilities. This funding will be used to expand facilities, as well as to establish endowments to attract and retain exceptional faculty and graduate students, primarily in the B. Thomas Golisano College of Computing and Information Sciences, the largest of RIT's nine colleges.
"On behalf of the Board of Trustees, we extend our sincere appreciation to fellow Trustee Austin McChord for this magnanimous gift," said RIT Trustees Chair Christine Whitman. "This most generous gift will allow RIT to expand and enhance its programming in some areas that the university is noted for, as well as further fostering our environment of creativity and innovation."
McChord has been an active alumnus of RIT, serving as a frequent keynote speaker at events, including Venture Creations graduation, the annual Entrepreneurship Conference and the 2017 Commencement. Datto sponsored events such as RIT48, an entrepreneurship competition, and hackathons, and McChord has given of his time as a mentor in RIT's SummerStart program, an intense summer program aimed at assisting entrepreneurs/innovators in developing their business concepts to a point where they are ready to begin to seek angel investment.
McChord founded Datto, a global provider of Total Data Protection Solutions, in 2007. Starting with an idea he had while a student at RIT, McChord started the company in the basement of his father's office building. His original goal of building basic back-up for small businesses across the country has expanded dramatically over the past 10 years. Datto has experienced exponential growth, appearing on the coveted Inc. 500 list of fastest growing private companies in 2012, 2013 and 2014, and has been recognized by the Connecticut Technology Council as one of the state's fastest growing companies. The company has also received numerous industry awards for company growth, product excellence and customer support.
Datto was recently acquired by Vista Equity Partners and merged with Autotask Corp. McChord is CEO of the new company, which has about 1,400 employees with offices in nine countries. In 2015, the company became Connecticut's most valuable start-up, with a valuation in excess of $1 billion.
In August 2014, Datto opened a branch in downtown Rochester on the fourth floor of RIT's Downtown Center, at 40 Franklin St., becoming the first company in the region to join that state's START-UP NY program. Initial plans called for Datto to add 70 workers within the next 18 months, but Datto has already grown to more than 200 employees in Rochester. McChord has said he expects the company's Rochester operations, which also has offices on multiple floors of The Metropolitan (former Chase Tower), to continue to grow.
McChord's business success has earned him several honors. The holder of several patents, McChord was named to the Forbes 30 Under 30 list in 2015 as a leader in Enterprise Technology and won the Ernst & Young Entrepreneur of the Year New York Region Award in 2016.