Alumnus has big impact on Big Shot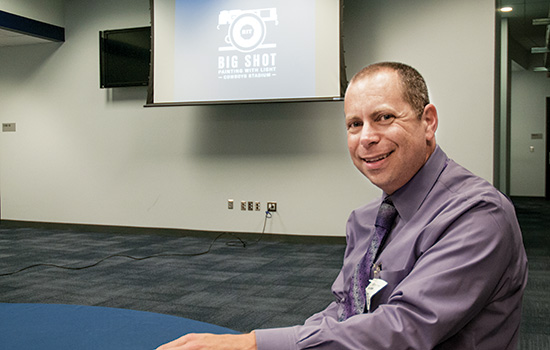 Michael Peres
Scott Saldinger '91 (film and video) had been kicking around the idea of doing a Big Shot at Cowboys Stadium for years. So when the team owner and general manager was the guest at a business meeting in June 2011, he took a spot at the end of the receiving line.
While others asked Jerry Jones questions about the team or admired his Super Bowl ring, "I said to him, 'What I would really like to ask you is if it would be possible for the Rochester Institute of Technology to take a once-in-a-lifetime photograph of your new stadium that would bring the community together,'" Saldinger says.
On March 23, that's what happened. More than 2,400 people from across the country gathered at the world's largest domed stadium to provide the primary light source for the 28th Big Shot photograph.
The Big Shot project started in 1987 as a way to teach students about flash photography. RIT photographers shoot an extended exposure at night while volunteers shine light onto an assigned area of the subject.
When Saldinger presented the Cowboys Stadium idea to the Big Shot team a few months after talking to Jones, they knew he was serious. Saldinger had suggested the Alamo site in San Antonio, Texas, in 2001 and became a key member of that planning team.
"We trusted Scott. His interest, commitment and history with the Alamo project were fact," says Michael Peres, associate chair of the School of Photographic Arts and Sciences and a Big Shot coordinator. "We didn't know whether the stadium would deliver."
Saldinger made sure it did. In late 2011, he worked with the Big Shot team to put together a package of before and after photographs to push the project — and it worked.
In January 2012, the Big Shot team in Rochester participated in a conference call with Saldinger and Brett Daniels, senior director of corporate communications and strategic event planning for the Cowboys.
Saldinger says it was on the conference call that he knew he and the Big Shot team were going to make this happen. He recognized Daniels from Saldinger's days as a television news photojournalist in San Antonio in the 1990s when he covered the Cowboys on the weekends. (Saldinger moved from Fresno, Calif., to Dallas in 2006 to return to Texas and resume his career in media sales. He lived in San Antonio from 1996 to 2005.)
"We immediately had a rapport," Saldinger says. "It became easier to get him to wrap his head around the project."
By April 2012, the Big Shot team had secured the Cowboys' interest and in June they visited the site for some test shots. But the project was mired in complexity and there were still hundreds of logistics to work out, including finding a date in a busy facility, completing contracts and even explaining RIT and the Big Shot to folks thousands of miles away. In addition, the event would require that the lights be turned off in the stadium for the first time in its history.
When the contract was finally signed on Oct. 30, the team had less than five months to plan the event. Saldinger handled the logistics in Arlington and rallied the alumni living in the area — there are more than 700 in northern Texas. They distributed 500 posters to area coffee shops and assembled 5,000 lanyards.
Saldinger and a few alumni friends made a video explaining the Big Shot concept of "painting with light."
And he was connected with alumnus Ted Van Horne '99 (applied arts and sciences), chief executive officer at American Medical Response in Dallas. The siren from an ambulance provided by Van Horne's company was used to signal to the volunteers when to shine their lights.
"It would not have been possible to do the project without Scott's stewardship," Peres says. "That's not an exaggeration."
Saldinger, who already has some ideas for a future site, says he is proud of the event and the teamwork it took to accomplish it.
"It was an amazing project. My intention was not only for us to have the Big Shot team create an amazing photograph but to show the world what RIT is all about," Saldinger says. "I hope this photograph is seen by thousands, if not millions of people and that the value to RIT in publicity and new students is huge."
BIG SHOT 2014
The next Big Shot will take place at Rochester's High Falls in February 2014. Go to the RIT Big shot website for information as it becomes available.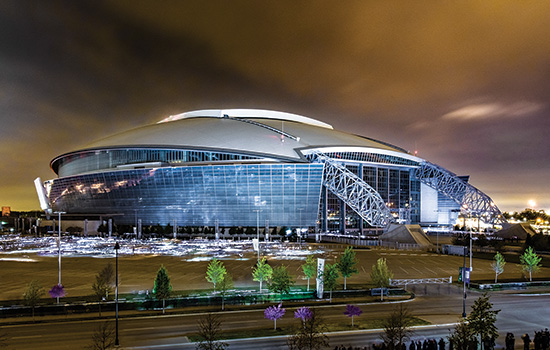 Topics