Alumnus turns personal pain into purpose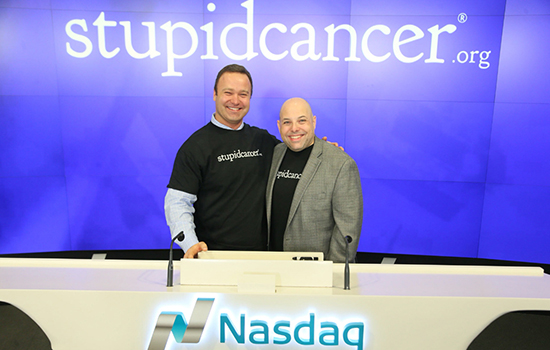 David Fuehrer's life was put on pause at age 25 when he was diagnosed with testicular cancer in 2002.
The emotional bombshell came while Fuehrer, a competitive athlete who had just won the New York state natural bodybuilding title, was completing his undergraduate degree. "I was just accepted into the MBA program and was on a mission; not even cancer was going to stop me. I had surgery, completed my degree and moved to Michigan to work as a marketing analyst at Ducker Worldwide to begin a new life where no one knew my past."
That new life shattered at age 30 during a routine visit when he was diagnosed with a different form of invasive testicular cancer—leading him to debilitating radiation and life-long hormone therapy.
Fuehrer said it was the darkest period of his life; he became more introverted as he tried to hide his cancer. Even declared cancer-free, he couldn't forget the lingering effects of living with a life-threatening illness. But when he lost his father, Craig, to bladder cancer in 2012, something clicked. "I remembered my father's motto: 'The difficult we do immediately. The impossible just takes a little longer,'" Fuehrer said. "My family and my wife, Rene, have been my greatest support, and now it was my turn to help and empower other people living with cancer."
He subsequently moved back to Rochester and founded Emerging Space, a company that helped people turn their ideas into successful products and services. Not surprisingly, his primary client became Matthew Zachary, CEO of Stupid Cancer, the largest U.S.-based charity that supports young adult cancer patients and survivors where Fuehrer also serves on the board.
The organization at that time was developing a new mobile platform called Instapeer, a free app which offers anonymous peer support for cancer patients, survivors and caregivers. "It was something I wished I had; dealing with testicular cancer I was always too embarrassed to ask for help. That is the reason I've changed my career and my life—to dedicate myself to it and helping others who are in the impossible place I was."
Fuehrer '02, '03 (professional and technical communication, MBA) is proud that five generations of his family have attended RIT dating back to 1904. One of his greatest joys last year as an adjunct professor at Saunders College of Business was to teach students to be true to themselves.
And now he is following his own advice. Fuehrer spends his work week in Manhattan with Zachary at Stupid Cancer, where they launched SC Research Ventures (SCRV) in July. "It's the first healthcare company that focuses on identifying and addressing the unmet needs of the tens of millions of people who will survive cancer," he explained.
"We will work directly with health care and pharmaceutical companies to tailor products, services and resources for patients based on data from the physical, social and psychological impact of their cancer diagnosis. We believe when the doctor says 'you're cured,' it's not the end of the story. We have the right to live with dignity and quality."