Andre Hudson awarded Erskine Fellowship
Andre Hudson will teach and conduct research in New Zealand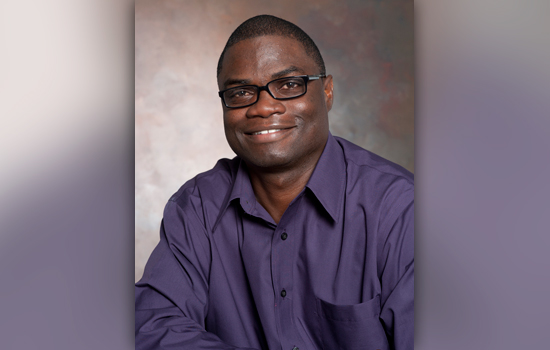 Rochester Institute of Technology professor Andre Hudson has been awarded an Erskine Fellowship from the University of Canterbury in Christchurch, New Zealand.
Hudson, an associate professor in RIT's Thomas H. Gosnell School of Life Sciences, is a biochemist with an expertise in amino acid metabolism. As an Erskine Fellow, Hudson will give lectures to the department of biochemistry and molecular biology at University of Canterbury for six weeks during the summer. Since 1963, the Erskine program, named for a University of Canterbury alumnus and benefactor, has awarded teaching fellowships to distinguished international academics.
While in New Zealand, Hudson will also conduct research with his collaborator, Renwick Dobson, professor at the University of Canterbury. Hudson and Dobson have published several papers together since 2011. Their work elucidated the three-dimensional structure of an enzyme from algae and a target for algaecide development. The enzyme is essential for the synthesis of the amino acid lysine in algae.
"I was invited to visit the University of Canterbury in 2012 to interact with Renwick and give a presentation on my research here at RIT on lysine biosynthesis to the biochemistry and molecular biology department," Hudson said. "It was my first time meeting Renwick face to face as all our interactions were through either email or Skype up to that point."
Dobson later nominated Hudson for an Erskine Fellowship. The award gives Hudson an opportunity to share his knowledge with students and faculty, and to work in close proximity with his collaborator.
"The scholarly model today regarding scientific research is mostly collaborative due to limits in financial resources, infrastructure and expertise," Hudson said. "The collaborative process is in itself a learning process because it forces you to think outside of your comfort zone. Renwick is a structural biologist and I am not; therefore, in order to work with him on our various projects, I had to learn many aspects of structural biology."
Their collaboration also has led to the identification of other putative targets for biocides and the screening of antibiotic lead compounds for antibiotic development. Scientist at the University of Alberta in Canada, Rutgers University and RIT undergraduate students in biotechnology and molecular bioscience, Alex Triassi and Matt Wheatley, contributed to the study published in Frontiers of Microbiology.
Other research in the Hudson Lab has identified beneficial bacteria associated with willow, sugarcane, yam and peppers by analyzing the whole genome sequence of bacteria in collaboration with Michael Savka, professor in RIT's Gosnell School of Life Sciences, and alumnus Han Ming Gan '08 (biotechnology), research fellow in the School of Science at Monash University Malaysia.
"Interactions with colleagues internal and external to RIT is beneficial for me regarding my growth as a teacher and scholar," Hudson said.
To watch a brief interview with Andre Hudson, go to https://youtu.be/qYuBzbYc2G0.