Andrew Herbert named associate dean of CLA
Former head of psychology wants to explore potential to expand graduate education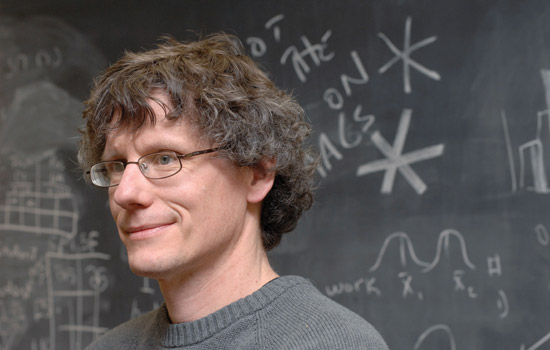 A. Sue Weisler
Andrew Herbert, who has been a member of Rochester Institute of Technology's psychology department for 15 years, has been named associate dean of RIT's College of Liberal Arts.
The announcement was made Monday by Dean James Winebrake after a nomination and review process.
"Andrew brings an extensive array of knowledge and experience related to curriculum development and management—both undergraduate and graduate; college and institute policies and practices; interdisciplinary programming; scholarship and sponsored research; and faculty, staff and student support," Winebrake said.
Herbert will focus on issues related to curriculum, global education, interdisciplinary programming, graduate education and sponsored research. He's thinking about the potential for graduate education, particularly Ph.D. programs that could involve multiple colleges.
"I look forward to working with my colleagues across the College of Liberal Arts, and RIT, as I take on this new role," Herbert said.
A native of Montreal, Herbert received a bachelor's degree in biology specializing in neurobiology from McGill University in Montreal, and a master's and Ph.D. from the University of Western Ontario in London, Ont. He has been chair of RIT's Department of Psychology and since January served as acting associate dean of the College of Liberal Arts.
He continues to conduct research and publish regularly about symmetry perception, visual attention and illusions and is affiliated with the color science program and the Chester F. Carlson Center for Imaging Science at RIT.
Herbert serves on the editorial board for the journal Brain and Cognition and is an associate for the journal Behavioral and Brain Sciences. He's managed public and private sector grants and much of his work involves students as researchers and co-authors.
In 2009, Herbert won the Eisenhart Award for Outstanding Teaching and in 2011 was awarded the Changing Hearts and Minds award from RIT's Office of Diversity and Inclusion. He also serves on RIT's Future of Faculty Committee.
"He has made service to the college and the university an important part of his career, serving on a number of important and impactful committees," Winebrake said.