Andy Grammer headlines RIT's SpringFest
Four-day fest features water games, free food, carnivals and more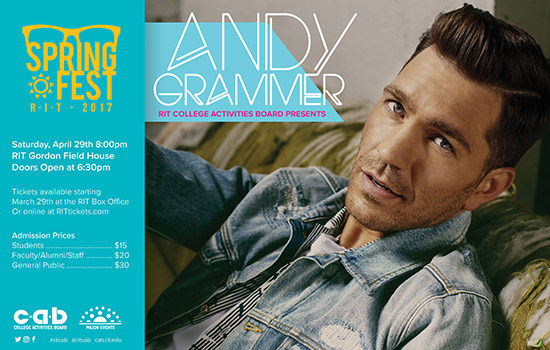 Warmer weather is right on time for Rochester Institute of Technology's annual SpringFest starting tomorrow and featuring water games, giveaways, prom dress rugby and a concert by pop musician Andy Grammer.
"SpringFest is all about the campus coming together for a weekend of fun," said Angelena Russo, director of the College Activities Board, which sponsors and runs the event. "We have a wide array of events, so hopefully everyone can come together and socialize."
Grammer will perform at 8 p.m. Saturday in the Gordon Field House. Tickets are $15 for students; $20 for RIT faculty, staff and alumni; and $30 for others, and available at the RIT Box Office or online at RITtickets.com.
Russo said festival memorabilia—T-shirts, water bottles, sunglasses and baseball caps—will be given away at some of the events.
Thursday, April 27:
Build-A-Burger: 11 a.m. in the Student Alumni Union. For $5, you can taste-test four burgers based on recipes submitted by students for consideration to be featured by RIT's Dining Services.
Kick Off BBQ: 6:30 p.m. at the Sentinel, featuring free food, games and music.
Movie, Doctor Strange: 9 p.m. in the Davis Room.
Friday, April 28:
Beach Day: 10 a.m. on the Greek Lawn, sponsored by Kappa Delta Rho. Lawn games, food, live music, and for a minimum $5 donation which will go to the Golisano Children's Hospital, help decide Rochester's favorite chicken wing.
Puppyfest: Noon–3 p.m. on the grassy knoll near Global Village. Several puppies and kittens from Joyful Rescues will be on campus. Spend time in the dog tent and/or the cat tent. Admission is $1 per tent, which will go to the shelter.
Novelties: Noon at the Sentinel, Indian-themed activities including henna provided by the Organization for the Alliance of Students from the Indian Subcontinent, vegetable samosa, gulab jamun, mango lassi and letter art.
Chalk Art: 1 p.m. at Global Village, chalk will be available to draw on sidewalks or on an easel at Global Village to honor the country of France. Prizes will be awarded to the art voted the best.
Carnival and Tie-Dye: 1 p.m. at the Greek Lawn, Major Student Organizations hosts a carnival featuring bounce houses, free T-shirts you can tie-dye, free food and more, sponsored by the Residence Halls Association.
Pizza Palooza! 2 p.m. at Global Village, by RIT Dining Services. Vote for your favorite.
Space Camp: 7 p.m. in the SAU lobby, students can experience zero gravity on a space trampoline and build an alien friend.
"Noises Off": 8 p.m. in Ingle Auditorium, performance by the RIT Players.
Dance in the Dark: 10 p.m. in the Frisina Quad, music and glow sticks available.
Saturday, April 29:
Prom Dress Rugby: 9 a.m. in the field behind Ellingson Hall. The RIT Women's Rugby Football Club will host a tournament between local women's rugby teams, and the players will be wearing prom dresses. Refreshments and prizes available for spectators.
Game Room: 10 a.m. in the Al Davis Room in the SAU, board and card games will be played, hosted by the Rochester Wargamer Association and Guild.
Carnival: Noon–3 p.m. on the Greek Lawn, the College Activities Board hosts a carnival, with spin art Frisbee, a caricaturist, food, music, water games and more. Global Union will have a tent where kites can be assembled.
Ninja Warrior: Noon on Throwers Field, test your skills as a ninja warrior.
Water Festival: Noon on the Greek Lawn, experience a Thailand water carnival featuring a water slide, slip-n-slide and an extreme water battle.
Funky Food Trucks: 2:30–4:30 p.m. in M Lot, food trucks will be handing out free samples, while supplies last.
Sunday, April 30:
Paint Me Pink 5K: 9 a.m. in the Gene Polisseni Center, all proceeds donated to the Zeta Tau Alpha Foundation to benefit Breast Cancer Education and Awareness. To purchase tickets or donate, visit https://www.zetataualpha.org/ThinkPink5K.
Men's baseball: Noon in Tiger Stadium, doubleheader, RIT vs. St. Lawrence University.
"Noises Off": 2 p.m. in Ingle Auditorium, performance by the RIT Players.
For more information, visit the SpringFest website.