App contest encourages community involvement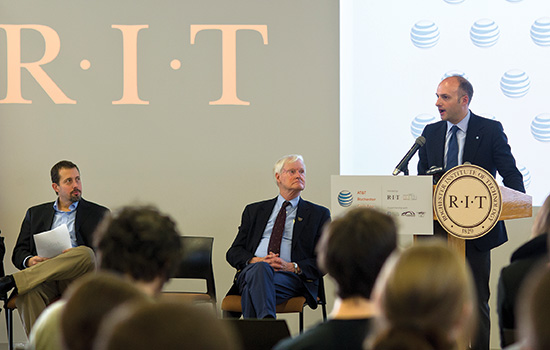 A. Sue Weisler
Jennifer Kotler has plans for a game to teach children about nutrition. Kotler, a fourth-year medical illustration major from Merrick, N.Y., is participating in the AT&T Rochester Civic App Challenge, a two-month virtual hackathon that wraps up in late April.

Technology giant AT&T, supported by RIT and assisted by Digital Rochester, High Tech Rochester and Hack Upstate, launched the challenge in which developers will leverage open data to build smartphone apps that serve community needs. Top winners will 
be announced in early May.

"Civic hacking is really amazing because you create projects that can actually make 
a difference in people's lives," Kotler said.

RIT's MAGIC Center (Media, Arts, Games, Interaction and Creativity) is home base for the event. More than 100 people, from as far west as Buffalo and as far east 
as Oswego, participated in a 24-hour 
hackathon that launched the challenge.

AT&T is challenging the local tech 
community to build and deliver apps and services that improve productivity, address community issues, and connect and engage citizens with government. The company chose Rochester to kick off a series of Upstate New York mobile app challenges to recognize the leading role the community has played as New York's innovation leader and center for technology jobs and commerce, said Marissa Shorenstein, AT&T's New York president. The company chose to partner with RIT because of its "pioneering work in mobile technology." 

The challenge will award prizes in two 
categories: one for apps already under 
development and another for those 
created for this contest. First place comes with a $5,000 grand prize. Second-place 
winners will receive $2,000; third place $1,000 and honorable mentions $500 each.

Submitted apps will be judged on potential impact on Greater Rochester, execution and creativity or novelty. The judges are local tech experts, community leaders and elected officials, including Assembly Majority Leader Joseph Morelle (D-Irondequoit) and State Sen. Patrick Gallivan (R-Henrietta).

"This competition will showcase the 
incredible talent and cutting-edge tech­nology that is being developed throughout the Rochester region," Morelle said. 
"I commend AT&T, RIT and the many 
other partners involved for coming together to launch this exciting opportunity, and I look forward to the end results."

MAGIC Center Director Andrew 
Phelps said the challenge presents an 
exciting opportunity for students and 
faculty, as well as the greater community.

"We are pleased to host this challenge, which will allow us to showcase the innovative spirit that infuses the MAGIC Center," Phelps said. "We created MAGIC to support turning ideas into marketable products. 
The apps that will be created during this challenge reflect well on our mission."
Topics