Architecture Professor Invigorates Freeze Fest with Unique Structure
Industrial Design students at RIT construct temporary ice hut for student festival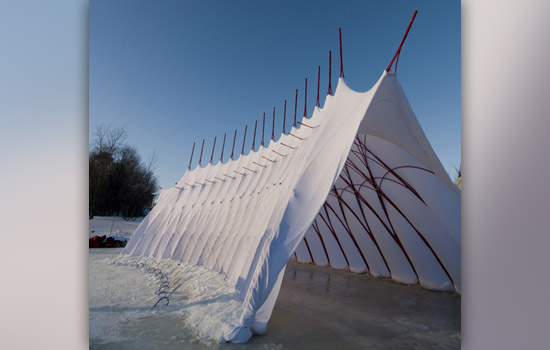 Rochester Institute of Technology students and family members will get a first-hand glimpse at one of the most dynamic temporary outdoor structures in the world this weekend—that is if Mother Nature does her part.
A team of students, led by Lancelot Coar, professor of architecture at University of Manitoba, has constructed the frame for the hut consisting of fiberglass rebar and a cloth shell. The structure is part of RIT's Freeze Fest 2012 celebration.
Students describe the construction as looking like a skeletonized fish. The 50-foot-long structure, which is meant to embrace winter weather conditions, remakes a common student walkway into a momentous campus experience. Coar was invited to participate and is working directly with professor Amos Scully from RIT's College of Imaging Arts and Sciences.
"It's really a unique structure in terms of visual aesthetic and practical construction principles," says Coar. "Its purpose is to study and explore the formal and structural potentials inherent in building materials and its relationship to the environment. Students are really excited about the project."
The structure is scheduled to be sprayed with water—turning to ice. Whether it actually becomes an ice hut is dependent on the weather. The structure will be at the Greek Lawn on RIT's campus through Feb. 7 and is free and open to the public.