Art professor teaches students to draw on life's lessons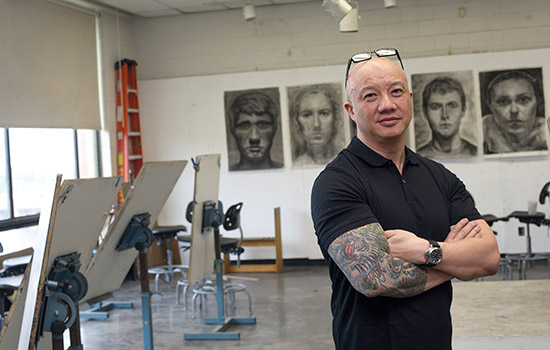 A. Sue Weisler
In his book, Talent is Overrated, Geoff Colvin contends that few people are truly great at what they do. Colvin contends that greatness is the result of practice honed over decades of perseverance rather than a product of DNA.
Colvin's book is a virtual teaching manual for Clifford Wun, an associate professor in the School of Art, so much so that it has become required reading for his drawing and design students.
"One of my former students asked me if I was teaching from the book, so I had to go out and get it," recalled Wun. "It's like (Colvin) was reading my mind as both a teacher and artist."
Students describe Wun, who received this year's Eisenhart Award for Outstanding Teaching for his work in the College of Imaging Arts and Sciences, as exceptionally demanding and mentally draining while also motivating, inspirational and transformational.
He admits to pushing his students beyond their perceived limits, an approach to education that Wun said he would have appreciated as a young student after moving to the United States from Hong Kong with his family in 1967. His parents instilled in him and his brother a strong work ethic and the importance of education.
"Still, I wasn't taught how to study," Wun recalled. "I didn't have a teacher who could break things down for me."
"That's what I strive to do for my students: to give them an advantage that was not given to me," Wun noted. "I want to provide every student with the tools—the ability to focus, learn, improve and expand their skills— so they can succeed at whatever they choose to do."
After earning his BFA in illustration from Rhode Island School of Design and MFA in painting from the Maryland Institute College of Art, Wun taught at several design schools before arriving at RIT in 1999.
He regularly exhibits nationally and internationally what he describes as "highly detailed, allegorical oil paintings that utilize old master techniques."
In 2011, Wun, the father of twin sons, was struck with a mystery illness. It took almost three years before doctors ultimately identified the cause and he returned to RIT in the fall of 2014.
"I had so many students stop by to visit me while I was away from RIT," he recalled. "What more can you ask for as a teacher … as a human being … when people show such concern for you and want to help?"
To be on the receiving end of such kindness from his current and former students has left Wun feeling especially grateful.
"I felt very humbled," he said upon learning he would receive the Eisenhart Award. "We have so many excellent people all around us here at RIT. It's inspiring to me as I strive to inspire others."