Auto aficionado, photog captures romance, glamour
Renowned alumnus Michael Furman comes to RIT for opening reception March 17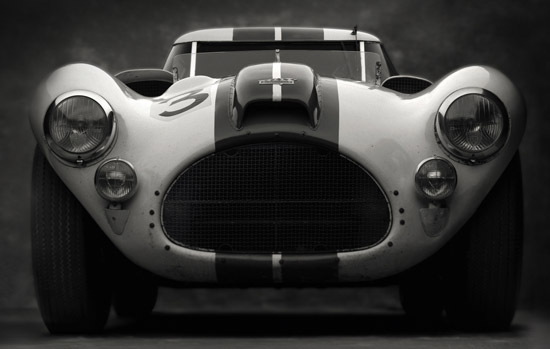 It's not surprising that Jay Leno is one of Michael Furman's biggest fans. Both are car aficionados—Leno collects them; Furman photographs them.
In the automobile industry, Furman's artistry in capturing the romance, power, glamour and extraordinary designs of notable cars—Jaguar, Packard, Lamborghini, Porsche, Mercedes-Benz, Mustang, Cadillac, Lincoln, Rolls-Royce, Bentley—has brought him acclaim as the world's preeminent fine-art automotive photographer.
And now the Rochester community is invited to an opening reception for "Automobiles: Photographs by Michael Furman" in the School of Photographic Arts and Sciences Gallery at Rochester Institute of Technology on March 17. Furman will deliver a lecture at 5 p.m. in the Chester F. Carlson Center for Imaging Science's Carlson Auditorium (building 76, room 1125), immediately followed by an exhibition opening reception in SPAS Gallery, third floor of Frank E. Gannett Hall, from 6 to 8 p.m. The show runs through April 7.
Furman, who lives and works in his hometown of Philadelphia, earned a BFA degree in photography at RIT in 1974. His automotive specialty began with a small assignment for Mercedes-Benz, and since then, he's worked for Jaguar, BMW North America and many others.
"His nuanced treatment of the studio environment coupled with a dramatic use of lighting pronounced the elegant design of a car's line, form and color," says SPAS Director Therese Mulligan. "The SPAS exhibition features a collection of automotive images of some of the greatest cars ever made—and enthusiasts will recognize some of these classics for their elegance and beauty."
Furman has worked with leading museums and collectors to produce nine high-end books. Selected titles include Motorcars of the Classic Era (2003), Automobiles of the Chrome Age, 1946-1960 (2004), and Speed, Style and Beauty: The Cars of Ralph Lauren Collection, published in 2005 as an accompaniment to an exhibition at the Museum of Fine Arts in Boston. Most recently, The Art of Bugatti: Mullin Automotive Museum, was released in conjunction with the 2010 Pebble Beach Concours d'Elegance, the prestigious annual classic car event.
Today, Furman continues his photographic journey with iconic automobiles by collaborating with museums, including the prestigious Mullin Automobile Museum in Oxnard, Calif., to present its distinctive collections in popular illustrated books and exhibitions.
SPAS Gallery, located on the third floor of Gannett Hall, is open to the public from 10 a.m. to 5 p.m. Monday through Saturday. For more information, call Therese Mulligan at 585-475-2884.
##
Note: The School of Photographic Arts and Sciences Gallery at Rochester Institute of Technology is the primary venue for photography in western New York state. It offers an academic calendar of exhibitions by visiting artists, faculty and advanced students; artists' talks; master classes; and portfolio reviews.