B. Thomas Golisano Receives RIT's Prestigious NRS Award
Longtime RIT trustee honored for significant contributions to the university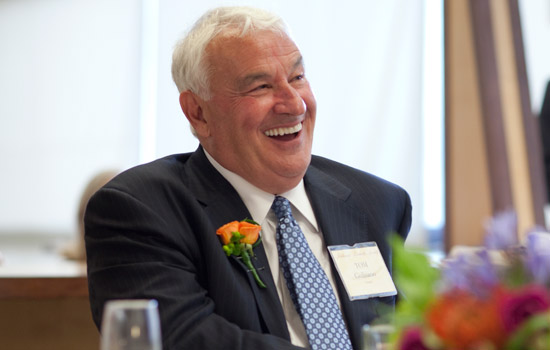 Elizabeth Torgerson-Lamark
Rochester Institute of Technology's Nathaniel Rochester Society has given its highest honor to B. Thomas Golisano, founder and chairman of Paychex Inc., owner of the National Hockey League's Buffalo Sabres and a member of the RIT Board of Trustees.
The 2010 NRS Award was presented July 8 during a ceremony at RIT's new Campus Center. The annual honor recognizes individuals who have contributed to the university's advancement in an outstanding and significant manner.
"I'm honored to receive this recognition," says Golisano. "RIT is a world-class university and I'm proud of my association with this fine institution. May it continue to attract and graduate the best and brightest to tackle the complex issues facing the next generation of world leaders."
Golisano has served as an RIT trustee since 1998. In 2001, he made a $14 million gift to the university to launch the B. Thomas Golisano College of Computing and Information Sciences, which became RIT's eighth college. It is now the largest comprehensive computing college in the country, educating more than 3,000 students in undergraduate and graduate degree programs, including a doctorate in computing and information sciences.
In 2007, Golisano committed an additional $10 million to create the Golisano Institute for Sustainability at RIT. The institute is among the first of its kind in the nation, focusing education and research in areas such as sustainable design, pollution prevention, remanufacturing and alternative energy development.
Establishment of the Golisano Institute for Sustainability is consistent with Golisano's ongoing support of the William J. Clinton Foundation. Golisano is a sponsor of the Clinton Global Initiative, which reflects a belief that governments need collaboration from the private sector, non-governmental organizations, and other global leaders to effectively confront the world's most pressing problems.
President Clinton has twice come to RIT, including a high-profile appearance in 2007 to deliver the keynote address at the university's commencement. Both visits to campus by the former president, including his first in 2005, resulted from a personal invitation by Golisano.
"I can think of no individual who is more deserving of this honor than Tom Golisano," states Bill Destler, RIT president. "His impact on RIT measures well beyond the generosity of his financial support. His foresight—indentifying the great potential of our university's innovative and creative assets for addressing some of our society's most critical needs—has proven transformational."
According to the B. Thomas Golisano Foundation, Golisano has contributed more than $145 million in philanthropic gifts to non-profit service organizations, colleges and universities, and hospitals in upstate New York and Florida during a period of just over a decade.
The mission of the Nathaniel Rochester Society is to develop friends and ambassadors to promote and support RIT. The NRS Award, established in 1972, has been permanently endowed through the generous gift of Mr. and Mrs. Marcus N. Barbour, charter members of the Society.
The NRS Award presentation piece is the creation of Leonard Urso, an internationally recognized, award-winning silversmith and the Mowris Mulligan Distinguished Professor in RIT's School for American Crafts. The award, contemporary in design, embodies the timeless values of past, present and future.
Topics