Baja team places first in opening competition
RIOT Racing takes top placements among 95 collegiate teams in individual events during weekend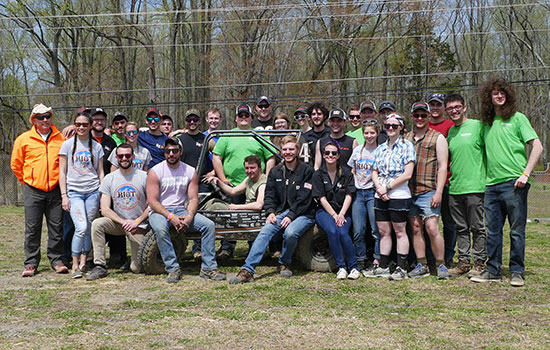 Provided by Martin Gordon
Rochester Institute of Technology's Baja Racing won first place overall among 95 collegiate teams competing in its opening race taking place on the University of Maryland-Baltimore County campus and at Budds Creek Motocross site. This year, colleges from across the U.S. and Canada were represented along with teams from Egypt, Mexico, India and South Korea.
Over the weekend, RIOT Racing would take first in design, second place in sales events. In the field, the team placed second in maneuverability, fifth in the hill climb, fifth in acceleration and first in suspension and traction. These scores put the team in first place overall in the dynamic, or field events, going into the endurance race—4-hours over hills, obstacles, rocks and mud. RIT Baja started in the top-10 with teams from Cornell, the University of Michigan, Case Western Reserve and Maharashtra Institute of Technology, finishing in fifth place.
Baja racing is one of several collegiate design competitions sponsored by the Society of Automotive Engineers where students design and build off-road race cars to compete in national and international races. The team's first win was an exciting way to start the season, said Jillian Mammino, team manager for RIT Racing.
"We were able to show all the work the students have been putting in this past year and even help out some other teams in the process," said the fifth-year mechanical engineering student from Greece, N.Y. "The team and car came together in a very smooth way, but there's still a lot of work to do for our next two races. I look forward to a competitive season." 
RIOT Racing continues its season competing in Kansas, May 17–20 and Oregon, May 3–June 2. On Saturday, April 28, the team will participate in the Imagine RIT: Innovation and Creativity Festival. It will join the university's Formula, Hot Wheelz and the Electric Vehicle (e-motorcycle) Teams at an unveiling and demonstration at 11 a.m. in Simone Circle, in front of the RIT Student Alumni Union.