Baja team places in top-10 overall
Team heads to Washington for next event before hosting Baja World Challenge at RIT in June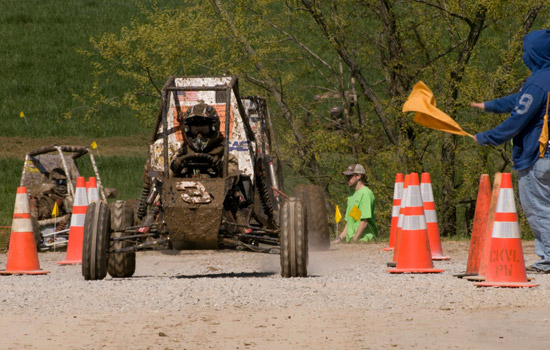 Rochester Institute of Technology's SAE Baja race team is preparing for its next competition in Washington state, May 16-19, after a successful opening contest in Tennessee. RIT Racing placed ninth overall among 85 U.S. and international collegiate design teams competing April 18-21 at Tennessee Tech in Cookesville, Tenn.
The team was in first place going into the third day of competition. They were on the leaderboard, placing first in the land maneuverability event, third place in both the suspension and traction and design categories. In two other dynamic events, sled pull and acceleration, the RIT car placed sixth. It proved to be a good first outing for the team, says Tim Brogan, team manager.
"We did really well the first two days of the competition. However, during the Endurance Race, we encountered some problems," says Brogan, a fourth-year mechanical engineering technology student in RIT's College of Applied Science and Technology. "We now know what the problems are with the car and we know how to solve them. So we are really excited for the next two races in the series."
RIT will host the Baja World Challenge June 6-9. One hundred teams registered for the event, last held at RIT in 2009. Teams will begin the World Challenge at RIT's Gordon Field House and Activities Center at 8 a.m. on June 7 with static events—technical inspections in addition to design and cost presentations. On June 8 and 9, all dynamic events take place at Hogback Hill Motocross in Palmyra, N.Y.