Baja team wins 2018 North American Series Championship
Team wins SAE Washington and coveted Mike Schmidt Memorial Award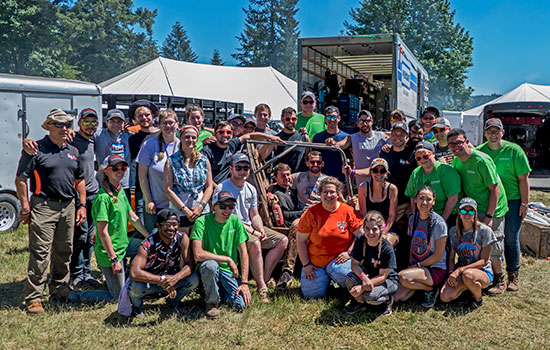 Rochester Institute of Technology's Baja Racing team won its third and final international competition of the season on Saturday, as well as the 2018 North American Championship title against hundreds of other college teams from around the world.
Baja Racing is one of several collegiate design competitions sponsored by SAE where students design and build off-road race cars to compete in national and international races. About 75 RIT students are on the Baja Racing team, from each college at RIT; about 30 percent of them are female.
The competition, in Washougal, Wash., near Portland, Ore., was the third and final competition in the North American Baja SAE Series. In addition to first place overall, RIT took first place in the sales presentation, design and rock crawl, and overall dynamic events.
The other two series competitions were held in April in Mechanicsville, Md., (where RIT took first place) and in May in Pittsburgh, Kan., where the competition was shortened due to tornados in the area. The RIT team took third place there.
"This is not just a race, it's an engineering competition," said Marty Gordon, a manufacturing and mechanical engineering technology professor and the team's faculty adviser. "We swept the design competition in all three races. That says something about the team as well."
About 300 collegiate teams participated, and the team with the highest cumulative points was the season winner.
Of 2,700 possible points, RIT won the seasonal championship by only 2 points, over Cornell University, Gordon said. The University of Michigan placed third, about 40 points behind.
The series champion receives the Mike Schmidt Memorial Award. Partially sponsored by RIT, it is named in honor of Mike Schmidt, an RIT manufacturing and mechanical engineering technology student who was killed in a car accident just prior to his graduation. Gordon said this is the third time RIT has won the Schmidt award. It also won it in the first two years it was given, in 2001 and 2002.
Gordon regularly presents the Schmidt Award at the final Baja SAE Series event each year, but didn't realize the RIT team would be this year's recipient until he was given the results to read.
"We had 34 students there, and we already knew we won the event, so they got very excited," Gordon said. "Then I found out we won the Mike Schmidt award. I had to take a few seconds to gather my composure before I announced the results. Bringing home the award was an extremely emotional moment for the team. Mike Schmidt was a founding member of our team, and we wanted to bring home the award for him. Without the tremendous support of RIT and sponsors, these accomplishments would not be possible."
Team manager Jillian Mammino, a recent mechanical engineering graduate from Greece, N.Y., said she was proud of everything the team has accomplished this year.
"The first place Mike Schmidt has been something we've worked tirelessly for, and now we've brought it back home," she said. "I'm thankful for RIT and all our sponsors for supporting us in this journey, and I'm excited to see what path the team takes next year."
Doug Botto, a recent mechanical engineering technology graduate from Smithtown, N.Y., said the victory was "such a surreal experience and being world champions is a crazy thought knowing that we are not only the best Baja SAE team in the world, but we worked incredibly hard to get here. It truly took a team effort and unprecedented commitment and dedication to accomplish something so prestigious."
And Nathan McKerley, a recent mechanical engineering graduate from Pittsburgh, Pa., said, "winning an engineering competition never occurs accidentally. Placing top three, three years in a row is even less accidental, and is a testament to the quality of students on the team, RIT's programs, and the faithfulness of the many sponsors supporting us."
Next year, RIT will host the Baja SAE Rochester World Challenge June 6-9, 2019.