Biologist focuses on transforming students into scientists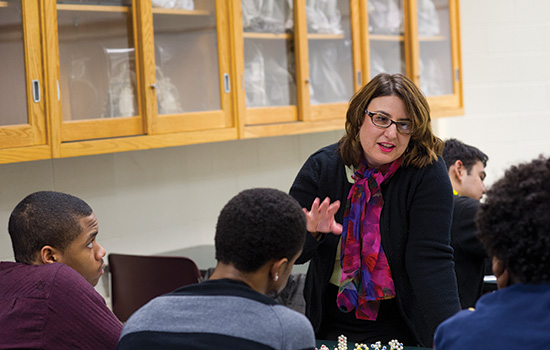 A. Sue Weisler
Dina Newman is on a new path.

The assistant professor of biology 
is creating a name for herself in the 
nascent field of biology education research. The discipline is a departure from the bench work she conducted at the University of Chicago that launched her early career 
as a geneticist and led her to RIT in 2003. Her interests have expanded in the last 
five years from the molecular level to include the unexplored edges—the cognitive transformation—of how students become scientists. 

Newman's most recent paper, "Students Fail to Transform Knowledge of Chromosome Structure to Topics Pertaining to Cell Division," published in the winter 2012 issue of CBE Life Science Education, explores the topic with co-authors Christina Catavero, a third-year student from Poughquag, N.Y., majoring in biotechnology in the College of Science and biomedical sciences in the College of Health Sciences and Technology, and Kate Wright, assistant professor of biology at RIT. 

Their study investigates the tendency among biology majors to misapply content knowledge to essential concepts and interrelationships regarding chromosomes and cell division. They found that students who think about biological processes in a vacuum instead of as part of a larger system create roadblocks to deeper understanding.

"Textbooks and typical lectures on cell division only show chromosomes as sticks or blobs," says Newman, a member of RIT's Science and Mathematics Education Research Collaborative. "So that's how 
students think of them. They don't think about what's going on, on the molecular level, even though they know."

Students need help making connections that experts intuitively grasp, Newman notes. She has since adjusted her own 
lectures to bring together the topics of 
DNA and cell division. 

"If you understand the structure, you 
understand the function and you understand how it works," Newman says. "Things that are presented as a magical process are driven by rules that they already know about."

Newman originally joined RIT to conduct genetic testing for a study led by her 
co-authors, D. Robert Frisina Sr., founding director of NTID, and D. Robert Frisina Jr. The Frisinas, now at University of South Florida in Tampa, recruited subjects in Rochester and tested their hearing; Newman isolated and analyzed the subjects' DNA to determine genotypes.

Co-author Laurel Fisher at the House Ear Institute in Los Angeles provided the statistical analysis for the National Institutes of Health study. The team's investigation confirmed and extended previous research tying age-related hearing loss to the GRM7 gene and a protein it produces in the inner ear.

"We took the same gene and were able 
to confirm the finding in a different way 
as well as show that men and women have different outcomes depending on their 
genotype," Newman says.

This spring, Newman will teach human genetics to upper-level students in the Thomas H. Gosnell School of Life Sciences. 

"The scale of DNA is so vast and so tiny," Newman says. "It's mind boggling in both directions. We're not used to those kinds of scales."

Conveying complex information in ways that lead her students to new cognitive levels is fundamentally gratifying for Newman, perhaps even more than the lure of the laboratory. She has found a rich field of research where biology education and genetics intersect. 

"Biology education research fits my 
personality," Newman says. "It's what I wanted to do, whether I knew it or not."