Biologist Tyrone B. Hayes speaks at RIT March 22
Tyrone B. Hayes discusses the critical impact that pesticides have on environmental health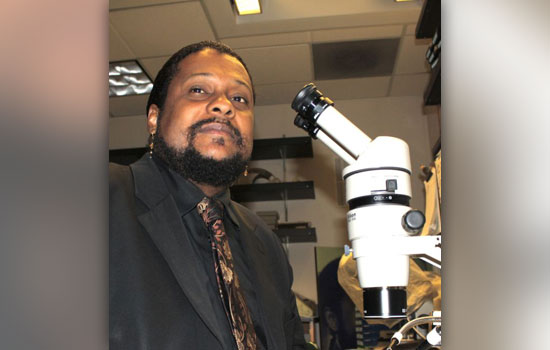 Biologist Tyrone B. Hayes will present the John Wiley Jones Distinguished Lecture sponsored annually by Rochester Institute of Technology's College of Science.
Hayes, a professor in the department of integrative biology at University of California, Berkeley, will speak at RIT's Chester F. Carlson Center for Imaging Science auditorium, room 1125, at 1 p.m. on March 22. The talk is free and open to the public, and will be followed by a reception.
The lecture, titled From Silent Spring to Silent Night: A Tale of Toads and Men, will discuss the negative health impacts of pesticides by examining the effects that the herbicide atrazine has on male amphibians.
The late John Wiley Jones was founder and chairman of the board of Jones Chemical Inc. in Caledonia. He was an avid proponent of science education. The annual lecture series was established in his name in 1974.
For more information about the lecture, contact Susan Tontarski at sjtsse@rit.edu or go to www.rit.edu/cos/tyrone-hayes.
Topics