Biomedical animator Drew Berry at RIT Dec. 8
MacArthur award-winning animator joins list of Caroline Werner Gannett distinguished speakers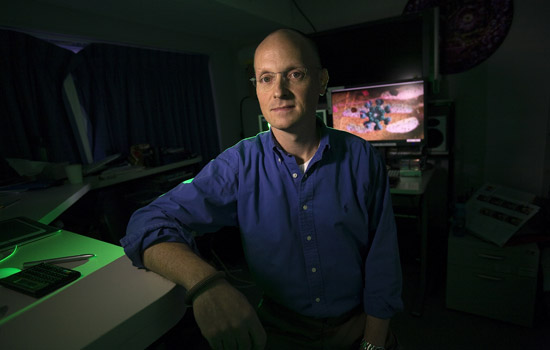 John D. and Catherine T. MacArthur Foundation
Drew Berry, award-winning biomedical animator, joins the list of accomplished presenters for Rochester Institute of Technology's 2011–2012 Caroline Werner Gannett Project's "Visionaries in Motion V" speaker series at 8 p.m. Dec. 8 in Webb Auditorium, James E. Booth Hall.
Berry's presentation, "Science and Aesthetics of Biology Through a Microscope," will focus on the challenges of accurately representing the molecules of flesh and blood—a world so miniscule, it is literally smaller than the wavelength of light and cannot be directly observed even with the world's most powerful microscopes. Berry will also explore the balance between scientific accuracy and creating content that is appropriate for a non-scientific audience. He is well known for bringing a scientific approach to his three-dimensional renderings of key biological concepts such as cell death, tumor growth and the packaging of DNA.
Berry, a cell biologist and the MacArthur award-winning biomedical animator at the Walter and Eliza Hall Institute of Medical Research in Melbourne, Australia, has displayed his medical illustrations at the Guggenheim Museum, Museum of Modern Art (New York), the Royal Institute of Great Britain and the University of Geneva. In 2010, he received a MacArthur Fellowship "Genius Award."
"Drew Berry has the ability to visualize complex biomedical processes and molecular interactions that enable non-scientists to grasp those complexities," says Gary Skuse, professor of biological sciences at RIT. "He does this not by simplifying the science but by explicitly and vibrantly depicting biological molecules and processes in a way that exploits our innate ability to interpret visual cues. From many perspectives he is truly a visionary."
The Gannett Project's "Visionaries in Motion" series explores new connections across technologies, social sciences and humanities, increasing opportunities for interdisciplinary understanding and collaboration both on campus and in the Greater Rochester community. In 2009, the series, founded and chaired by Mary Lynn Broe, the Caroline Werner Gannett Professor in the Humanities, was selected by City Newspaper's Critics' Pick for "Best Lecture Series in Rochester."
All Gannett Project talks are free and open to the public. For more information about the Caroline Werner Gannett Project, go to www.cwgp.org.