Book details life of basketball star Bob Davies
Author Barry Martin explores the on and off-court life of NBA Rochester Royals player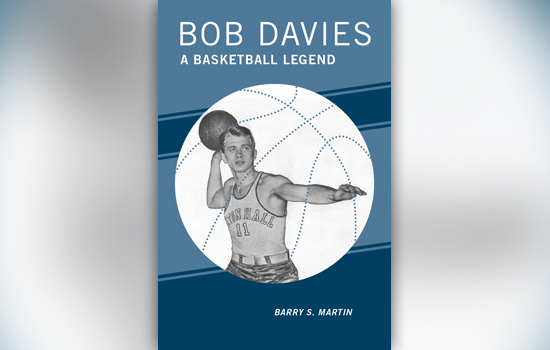 Decades before Golden State Warriors-star Stephen Curry was born, Bob Davies introduced the world to the fast break, innovative passes and the behind-the-back dribble. Davies was, according the Naismith Memorial Basketball Hall of Fame, the "first Super Star of Modern Professional Basketball."
A new book documents the life of Davies, one of the most influential players in the first century of college basketball and one of the 10 best players in the first quarter century of the NBA. Although playing in the early years of the NBA—with the Rochester Royals (now Sacramento Kings)—did not guarantee him lasting fame, he was a rarity in American sports history, as he was also a veteran, family man and role model.
The biography, Bob Davies: A Basketball Legend, written by Barry S. Martin, is published by RIT Press, the scholarly publishing enterprise at Rochester Institute of Technology. Martin describes the life of Davies highlighted with photos, archival materials and personal interviews.
"Readers will enjoy the story of a genuine sports hero-role model," said Martin. "They will also discover a forgotten NBA team that was called the most perfect team of its era."
Growing up in Harrisburg, Pa., in the 1930s, Davies became known as the "Harrisburg Houdini," for his ability to stun opponents with his deceptive sleight-of-hand ball handling. Today, he is credited with introducing the behind-the-back dribble.
Recruited originally for his baseball skills, Davies became an All-American basketball player at Seton Hall University, whose Wonder Five won 43 consecutive games from 1939 to 1941. After college, he served in World War II as a Lieutenant Junior Grade, participating in the invasion of southern France and commanding a sub chaser in the Pacific Theater.
The book recounts Davies' time with the Rochester Royals, a team that became today's NBA Sacramento Kings. Playing under coach Les Harrison, Davies was part of one of only four teams in NBA history to win the playoff championship or finish or tie for first in their division or conference for five consecutive seasons.
"I was a two-hand set shooting guard for the Webster High School Ridgemen and loved watching the Royals Hall of Fame back court men Bob Davies and Bob Wanzer swish long set shots," said Martin. "I had no idea that the Rochester Royals at that time were one of the two best basketball teams in the world."
In 1951, Davies starred in the first NBA All-Star Game and went on to play in the game three more times. In the first-ever NBA Finals game seven, Bob Davies swished clutch free throws to clinch the Royals' 1951 NBA championship.
Throughout the book, the author shares personal stories from Davies' life. He describes how Davies played a season of professional basketball while simultaneously coaching a college basketball team. He tells how the Rochester Royals played a unique role in American race relations, signing African-American player Dolly King to a professional contract before Jackie Robinson ever played for the Brooklyn Dodgers.
Davies married his lifelong sweetheart, Mary Helfrich, and started a family. He went on to work as a Converse sales and promotion representative for 27 years and became the inspiration for a fictional sports hero-role model named Chip Hilton.
Martin, a native of Webster, N.Y., spent seven years doing research for the book, including interviews with Davies' family and former NBA players. He is a retired Administrative Law Judge and resides in Sacramento, Calif.
Bob Davies: A Basketball Legend is available in softcover for $18 at the RIT Press website or by calling RIT Press at 585-475-6766.