March 18, 2014
by Marcia Morphy
Book examines midlife crisis of superheroes
Book published by RIT Press examines the midlife crisis of America's caped crusaders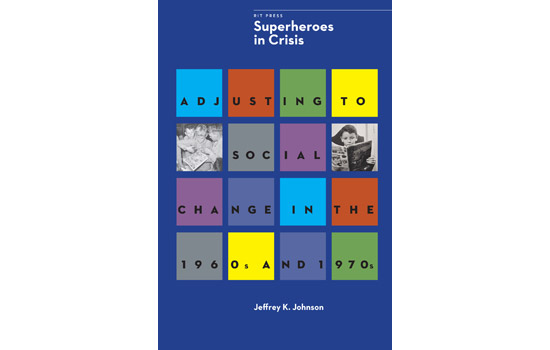 What is fascinating about Superman and Batman is how long they stayed relevant because they've always been able to change with the times.
—Jeffrey K. Johnson, author of Superheroes in Crisis
Two of DC Comics' most popular caped crusaders, Superman and Batman, are 75 years old—and throughout the decades, both have experienced change, adaptation and evolution.
In his new book, Superheroes in Crisis: Adjusting to Social Change in the 1960s and 1970s, author Jeffrey K. Johnson takes a scholarly look at how America's superheroes have tapped into the national psyche to become barometers of cultural and societal change.
The author says the Man of Steel and the Dark Knight have changed often because they needed to adjust with societal changes and because American comic fans demanded it. Johnson cites Superman's transformations: "In his early adventures, you could see the rough and tumble man who was formed by the Great Depression, which turned him into a street brawler who wanted to right wrongs on a micro level. Later he becomes the neurotic and complex Superman of the 1950s and then the uber powerful Man of Steel of the 1970s."
Likewise, Batman changed with the times. "He started out as a rich playboy avenger in the 1930s and becoming this goofy pop icon of the 1960s," said Johnson. "And now he is arguably the most popular superhero of all. In the early days it was certainly Superman who would've won a popularity contest, but now Batman is certainly more popular than the Man of Steel.
"As society has changed, it's need for a certain type of hero has changed—and Batman has risen to the top."
Superheroes in Crisis is the second book of the Comic Studies Monograph Series published by RIT Press, the scholarly publishing enterprise at Rochester Institute of Technology. The series is edited by Gary Hoppenstand, professor of English at Michigan State University, and will introduce scholars and the general reader to various theories and methods of Comic Studies including graphic novels, comic books and comic strips.
Will Superman and Batman continue to save the day?
"These heroes are our mythology; they are our Greek gods," explained Johnson. "They are known by almost everyone, even if you've never seen a comic book. They are part of the very fabric of American society and probably will be for decades to come."
Johnson is a World War II Historian at the Joint POW/Accounting Command in Honolulu. He is the author of several books and articles on the influence of comics in popular culture.
Superheroes in Crisis: Adjusting to Social Change in the 1960s and 1970s is available in softcover for $29.95 at the RIT Press website or by calling RIT Press at 585-475-6766.