Book explores folk art of decorated stoneware
'Art for the People' features collection of stoneware from New York State Museum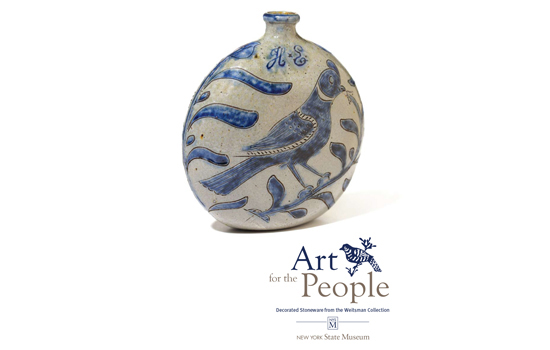 New York State Museum
A new book, distributed by RIT Press, explores 19th century utilitarian stoneware—including crocks, jugs and churns—and the unique folk art that was created on those canvases.
Art for the People: Decorated Stoneware from the Weitsman Collection features the images and stories behind more than 230 examples of cobalt-decorated stoneware donated to the New York State Museum by Adam J. Weitsman. The book was published by the NYS Museum, home to the Weitsman collection, and proceeds from book sales will benefit the museum.
The 300-page oversized hardcover book, written by John L. Scherer, senior historian emeritus at the New York State Museum, discusses the folk art of utilitarian wares by nesting them within a broader historical context of pre-industrial commerce, craft and transportation.
Stoneware was the basic ware of the 19th century and served many useful functions, primarily in the preparation, storage and serving of food. The artful designs that decorate the pitchers and jars are prime examples of American folk art, inspired by observations of daily life and fantasy.
"The surviving examples of decorated stoneware included in this book provide insight into life in 19th century America," Scherer writes in his introduction. "A large crock depicts a Masonic initiation rite; a jug depicting an American Indian commemorates the death of the Seneca chief Handsome Lake in 1815; and another crock shows a German-style church in Manhattan that was located in the same neighborhood as the pottery where it was produced."
Animals, buildings and patriotic motifs are popular among the more than 340 color photographs of decorated stoneware organized by its place of origin. Most examples are from New York state, as it was one of the nation's leading producers of stoneware because of its canal and turnpike transportation systems.
Weitsman, best known for his scrap metal business, began his stoneware collection in 1980 at the age of 11 and has continued collecting stoneware ever since. In 1996, he began donating his collection to the New York State Museum.
"The Weitsman collection is America's premier collection of decorated stoneware, and we're proud to make it available to all," said State Museum Director Mark Schaming. "The Board of Regents and the State Museum are grateful that Adam Weitsman's passion and generosity has allowed use to preserve, study exhibit and now publish this remarkable collection of New York decorated stoneware."
Art for the People: Decorated Stoneware from the Weitsman Collection is available in hardcover for $75 at the RIT Press website or by calling RIT Press at 585-475-6766. RIT Press is the exclusive distributor for the book.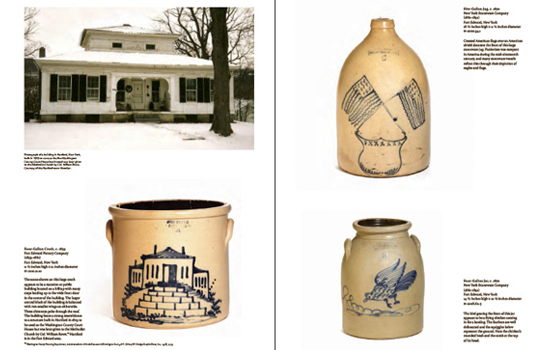 New York State Museum
Topics