Broadway veterans host workshops for RIT students
Spring dance series offers virtual discussions, Q&A, and master classes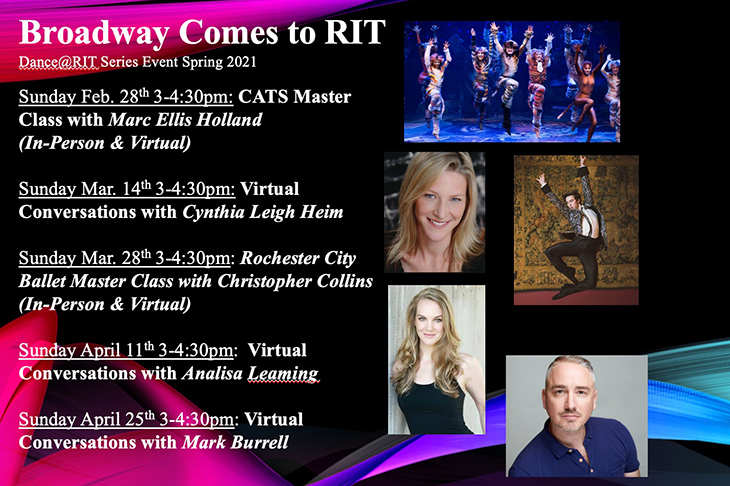 RIT students have the opportunity this spring to learn from professional artists in a series of free virtual workshops with Broadway performers and dancers.
The "Broadway Comes to RIT" series will be held on Sundays, from 3 to 4:30 p.m. via Zoom.
The speakers, who have acted and/or danced on Broadway, will talk about their experiences and will be available for questions.
Thomas Warfield, RIT's director of dance, said he hopes similar speakers can visit RIT students in person once the pandemic restrictions are lifted.
"Experiential learning, which encompasses the aesthetic experience in the arts, does not only contribute to more successful students but to more successful human beings," Warfield said.
The first workshop was held Feb. 28 with Marc Ellis Holland, a former Broadway dancer in Cats and a lecturer in the dance program at RIT's National Technical Institute for the Deaf.
Guests in upcoming workshops include:
March 14: Cynthia Leigh Heim, who appeared in Music Man, The Scarlet Pimpernel, as well as numerous film and television credits.
March 28: Christopher Collins, principal dance of Rochester City Ballet, will teach a ballet class workshop virtually and in-person, with priority given to RIT performing arts scholars.
April 11: Analisa Leaming, who appeared as Anna in The King and I, and creator of "A Balancing Act," a podcast for artists.
April 25: Mark Burrell, dancer, assistant choreographer/director for Pippin, Fosse, Radio City Christmas Spectacular, and Cats.
Leaming, who graduated from the University of Rochester's Eastman School of music, said she's "looking forward to speaking with the students at RIT and sharing my journey from college to Broadway. The life of a performing artist is unique and challenging, and I'm going to share skills that will benefit people's lives whether pursuing a career in the arts or not."
Burrell said it is important students interested in the performing arts stay connected to them during this pandemic.
"The performing arts have always possessed the ability to challenge audiences and partakers physically, emotionally, and politically," he said. "I find the power of community integral and inescapable to the performing arts and wish to share this idea with the attendees. I aim to inspire, share, and influence the need for support of the performing arts during this critical time."
Registration, through Campus Groups, is open to all RIT students. Sign language interpreters have been requested for each event.