Business alumnus receives Fulbright fellowship
Saunders College of Business alumnus Brian Williams will study at Dublin City University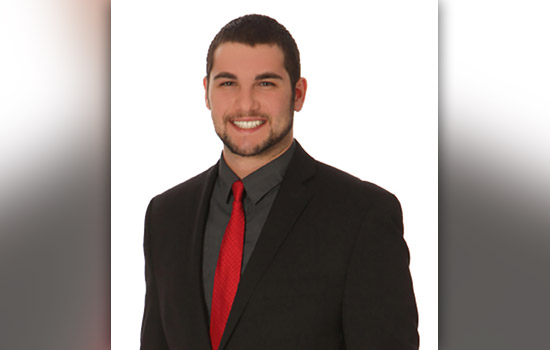 Rochester Institute of Technology alumnus Brian Williams has received a prestigious Fulbright fellowship in finance for the 2017-2018 academic year. The Fulbright U.S. Student Program provides funds for American students to live in another country for one year to teach English, conduct research or earn a graduate degree.
Williams, who graduated with a degree in finance from Saunders College of Business in May 2016, will enroll in the master's in finance program at Dublin City University (DCU) to explore the role of foreign direct investment (FDI) from multinational companies in the development process for poor countries. He currently works as accounting associate at First American Equipment Finance in Fairport, N.Y.
"I will focus on risk management to evaluate risks and impact of FDI on these countries and companies," said Williams, from Rochester, N.Y. "While I was at RIT, I did a faculty-led study abroad program in Rwanda where I spent three weeks mapping at the Kigeme refugee camp with the help of UNHCR (United Nations High Commissioner for Refugees) and several refugee guides. Back home we used the WhatsApp to stay connected with the refugees and I really want to go back to Africa. I believe I will be able to fulfill the Fulbright's mission of cross cultural understanding by using business as a tool for powerful social change."
According to James Myers, associate provost for International Education and Global Programs at RIT, Fulbright Fellowships are among the most competitive international fellowships that recognize the intellectual and humanitarian contributions of American students.
"RIT students are consistently represented among the national elite for research related Fulbright fellowships," said Myers. "For Brian to receive a full scholarship for graduate study in Ireland is a testimony to his achievements as an undergraduate and his character as a globally engaged citizen."
Williams also has a powerful personal motivation to attend school in Ireland. His grandmother "lived in poverty" in Kanturk, located in County Cork, before immigrating to the U.S. at the age of 19. "She was the oldest of eight siblings and lived without electricity, running water or an indoor bathroom," said Williams. "I've visited Ireland with my family when I was young and now I get to renew my relationship with my relatives—only a couple hours away from Dublin."
The Fulbright U.S. Student Program is administered at RIT through the office of International Education and Global programs—and Williams said he can't thank the staff at RIT Global enough for encouraging him to study abroad and apply for a Fulbright fellowship.
"RIT has been very good for all my family," said Williams. "My brother, Chris, graduated in 2013 with a degree in mechanical engineering; my mother, Gina, worked in human resources at RIT and graduated in 1985 with a degree in business administration; and my grandfather, Joseph Manuse '63 (art and design) graduated from RIT's downtown campus."
Williams is one of more than 1,900 U.S. citizens who will study, conduct research and teach abroad for the 2017-2018 academic year through the Fulbright U.S. Student Program. Recipients of Fulbright awards are selected on the basis of academic and professional achievement as well as a record of service and leadership in their potential fields.
Since its inception in 1946, the Fulbright program has provided more than 370,000 participants the opportunity to exchange ideas and find solutions to shared international concerns. The Fulbright program is funded through an annual appropriation by the United States Congress to the U.S. Department of State and managed by the Bureau of Educational and Cultural Affairs.