August 16, 2011
by Kevin Fuller
Callie Babbitt Honored for Sustainable Design Curriculum
Design and sustainability go hand-in-hand in researcher's work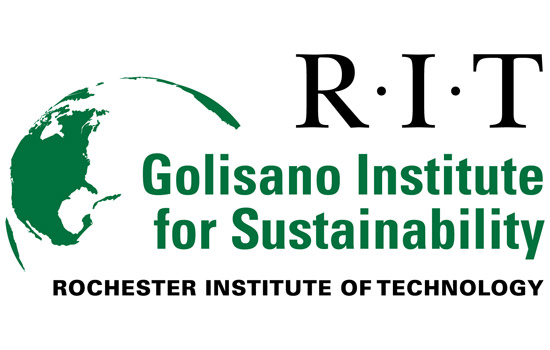 Rochester Institute of Technology professor Callie Babbitt's research efforts in reducing the footprint of the information and communication technology industry has garnered the university an award from AT&T.
Babbitt, an assistant professor at RIT's Golisano Institute for Sustainability, is being presented the AT&T Technology and Environment Award to develop a combined research and curriculum initiative that explores sustainable design of information and communication technology products. The university will receive $25,000 to go toward further research.
"Rochester is becoming a hub for not only ecological awareness but green technology and education through the Rochester Institute of Technology and other organizations around our community," says state Sen. Joe Robach. "Congratulations to Callie on receiving this tremendous and deserving honor."
Now in its 15th year, the AT&T Technology & Environment Award—formerly known as the Industrial Ecology Fellowship Program—recognizes university and college research focused on how information and communications technology affects the environment. It is intended to stimulate research surrounding environmental issues, engineering, science and other disciplines.
"This award affirms that RIT is one of our region's premier educational institutions and a nexus of innovation, where researchers like Callie Babbitt are paving the way for tomorrow's sustainable technologies and building the bridge between environmental awareness and economic growth," says Assemblyman Joseph Morelle. "Congratulations to Professor Babbitt and the entire RIT community."
RIT is one of three institutions nationwide to win the award this year.
"The AT&T Technology & Environment Award is intended to foster innovation among our most respected academic institutions and most promising researchers," says Amy Himes Kramer, regional vice president of external affairs for AT&T in New York. "Dr. Babbitt's unparalleled work in establishing a link between the sustainability practitioner and the product designer, in both research and curriculum development, embraces the spirit of the AT&T award. In addition, outcome of RIT's research will offer a glimpse into the next generation of sustainable design principals."
"Combining sustainability and design into a university curriculum is such an innovative way to reduce the footprint of the information communication and technology industry," explains Nabil Nasr, director of Golisano Institute for Sustainability. "We are very pleased and excited that AT&T is dedicated to the cause and has recognized Callie's research."
AT&T judged applications from individual faculty members and teams representing higher-learning institutions from around the country. Selections were based on the strength of research showing how businesses can reduce their environmental impact through use of information and communications technology products and services. These products and services could include mobile connectivity, wireless relay networks and even two-way smart grid communication solutions.
"AT&T is known as a leader in supporting and implementing sustainability efforts, so being selected for this award is an extremely meaningful honor," says Babbitt. "We are looking forward to the opportunity to contribute to AT&T's efforts by creating new solutions for global sustainability challenges associated with the production and use of ICT products in today's society."
Representatives from AT&T presented Babbitt and her research team with a check during an awards ceremony Aug. 16 at RIT.
Topics