CAST appoints three to leadership positions
James Lee and Maureen Valentine also appointed to department leadership positions in CAST's School of Engineering Technology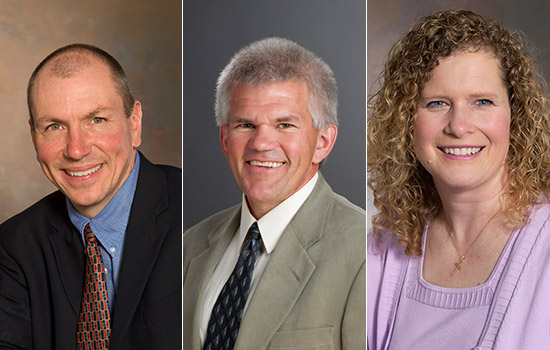 Three faculty were appointed to leadership positions in RIT's College of Applied Science and Technology. Michael Eastman was named associate dean of the college; James Lee will serve as acting department head for the college's electrical, computer and telecommunications engineering technology (ECTET) programs; and Maureen Valentine becomes interim department chair of civil engineering technology/environmental management and safety.
The three faculty members are part of CAST's School of Engineering Technology, and they began their new positions July 1.
"These three faculty members bring excellent industry experience, leadership and collaborative skills to their new positions. They have established strong relationships with other academic and non-academic units within RIT, and their student-focused approach in teaching and research will serve them well in their new roles. I am looking forward to working with them as we continue to grow our college," said Manian Ramkumar, interim dean of CAST.
Eastman, professor and former department head of ECTET, has been with RIT since 1996. As associate dean, he will be responsible for all undergraduate and graduate programs within CAST, including the enhancement of existing programs as well as implementation of new ones. This work will include helping to maintain relevance of academic programs to current and future needs of industry. He will also work to establish cross-collaboration across programs while developing a continuous improvement system for the college. Eastman will also play a key role in establishing unique study abroad and honors programs for CAST students, including online and blended delivery of programs.
Eastman received his bachelor's degree in engineering technology and master's degree in computer science, both from RIT. This past spring, he completed his doctoral degree in STEM education from the University of Buffalo. He is a member of the IEEE Computing Society and the American Association of Engineering Education. His research interests are in embedded computing systems and computer architecture as well as engineering education research and social constructivist contexts.
Lee, an associate professor, joined RIT in 2007 as research faculty in the Golisano Institute for Sustainability before becoming graduate program director for the manufacturing and mechanical engineering technology department. His research into natural gas fueled engine development, energy systems and fuel cell systems has been instrumental in lowering hydrocarbon emissions and energy efficiencies. Lee is an active member of the American Society of Mechanical Engineers, the Society of Automobile Engineers and is a professional engineer registered in the state of New York.
Valentine, who began at RIT in 1992, returns as department chair for civil engineering technology/environmental management and safety, a position she held for several years before assuming the role of CAST associate dean in 2007. In 2013, she was named one of the first Engineers of Distinction by the Rochester Engineering Society in recognition of academic, industry and research achievements. Some of those achievements include: participation as a faculty-researcher on RIT's National Science Foundation ADVANCE grant to identify barriers for women faculty in regards to rank, tenure, career advancement, leadership role progression and resource allocation; and receiving the 2012 Changing Hearts and Minds Award, given annually by RIT's Office of Faculty Recruitment, to recognize efforts made toward furthering RIT's overall commitment to diversity and enhancing diversity among the faculty ranks within their respective college. Prior to joining RIT, Valentine served as a senior geotechnical project engineer for several regional and national engineering firms.