CAST students devise tool to catch asteroids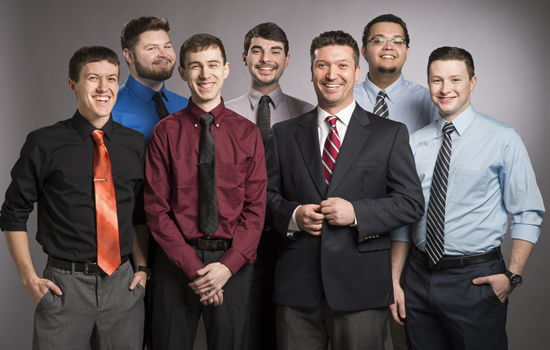 Elizabeth Torgerson-Lamark
RIT's Strategic Plan in Action—Career Education and Student Success
ORCHID is a device being built by six mechanical engineering technology students to catch an asteroid.
Daniel Vasconcellos and his team moved into the final round of a NASA-sponsored collegiate design challenge called Micro-g NExT, part of its Asteroid Redirect Mission. ORCHID, their prototype 'grabber' is intended to retrieve samples of asteroids, to draw them in for closer study or divert one's direction to avoid a collision with Earth.
All the work was done outside of class last fall, but drew upon what they were learning about contributing to new product design and manufacturing teams once in the workplace. A combination long-reach grabber and specimen container, ORCHID was praised by NASA engineers for its durable gripping capabilities, cost-effective manufacturing plan and simple design.
"Have you seen one of those devices you use to grab something out of your reach? That was what we used as a base. And another we modeled our project on is a head scratcher," Vasconcellos said.
Using rapid prototyping, the students made precision parts for the central trigger, handle and internal mechanisms. Other improvements include stronger metal, spring-retractable "fingers" to acquire specimens and removable and airtight containers to hold asteroid samples and reduce cross contamination.
"It's simplicity," said Vasconcellos, a fourth-year mechanical engineering technology major from Rochester, N.Y.
Mark Olles, assistant professor in the manufacturing and mechanical engineering technology (MMET) program and academic adviser to the team, agreed. "They kept it simple, focused on the function. It is not so much about it being cool; it is about serving its purpose. As an engineer, it's always function first."
Teams were also required to have a manufacturing plan. RIT's stood out.
"What set ours apart from the others was we decided to do most of the manufacturing in-house because we have access to the labs and tools that we can use to make the most of the device," said Vasconcellos. Parts were made in CAST's new Metrology Laboratory and Machine Shop.
During spring semester, they've refined their prototype for the final competition in late May at Johnson Space Center in Houston. Divers from NASA's Neutral Buoyancy Laboratory, a 6.2 million-gallon under-water facility used to simulate a zero-gravity environment, will test the tool. The MMET students will direct divers from the test control room at the facility.
NASA is developing a robotic mission to visit a large, near-Earth asteroid, collect a multi-ton boulder, and deflect it towards Earth's moon for further study. The organization is also looking to students to develop tools for this work.
"If what we do gets chosen, this is something that can actually be used on a mission, and that is just fantastic," Vasconcellos said.