Celebrating the Tigers' national championship season
Men's lacrosse team brings home the NCAA trophy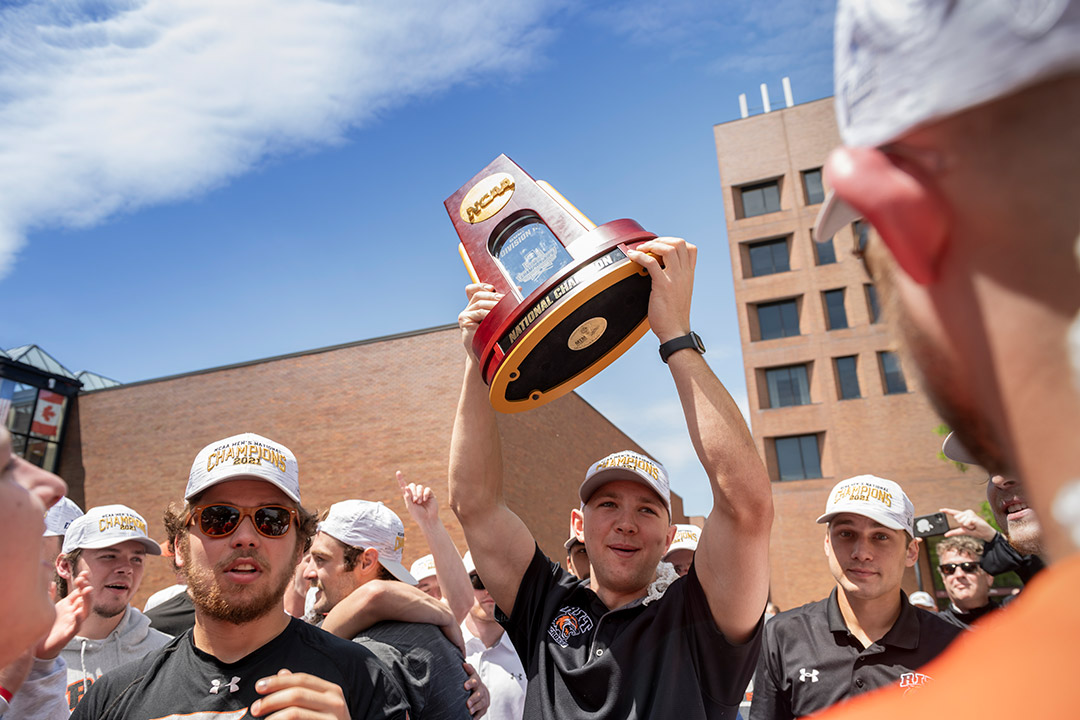 It's officially in the NCAA record books: RIT men's lacrosse won its first national championship in a stunning double overtime classic with a sudden victory goal Sunday.
What is also official: Students, faculty, staff, and alumni gathered Tuesday to celebrate the team in one of the first university community events in 14 months since the start of the global pandemic.
Capping off an undefeated season with a victory over Salisbury University in the NCAA Division III title game, Tiger fans welcomed the team back on campus Tuesday for a championship rally in front of the Student Alumni Union.
"You met adversity with courage, and passion, and fortitude," Sandy Johnson, senior vice president for Student Affairs, told the team. "This is a special time not only for each of you but for all of us. You not only led us to our first national championship, but you are the ones who are also leading us out of this time … You brought the RIT community together again. And now you are our national champions!"
These 2021 Tigers join an exclusive group of RIT national championship teams. The men's hockey team won a Division II national championship in 1983 and a Division III crown in 1985. The women's hockey team won a Division III national championship in 2012.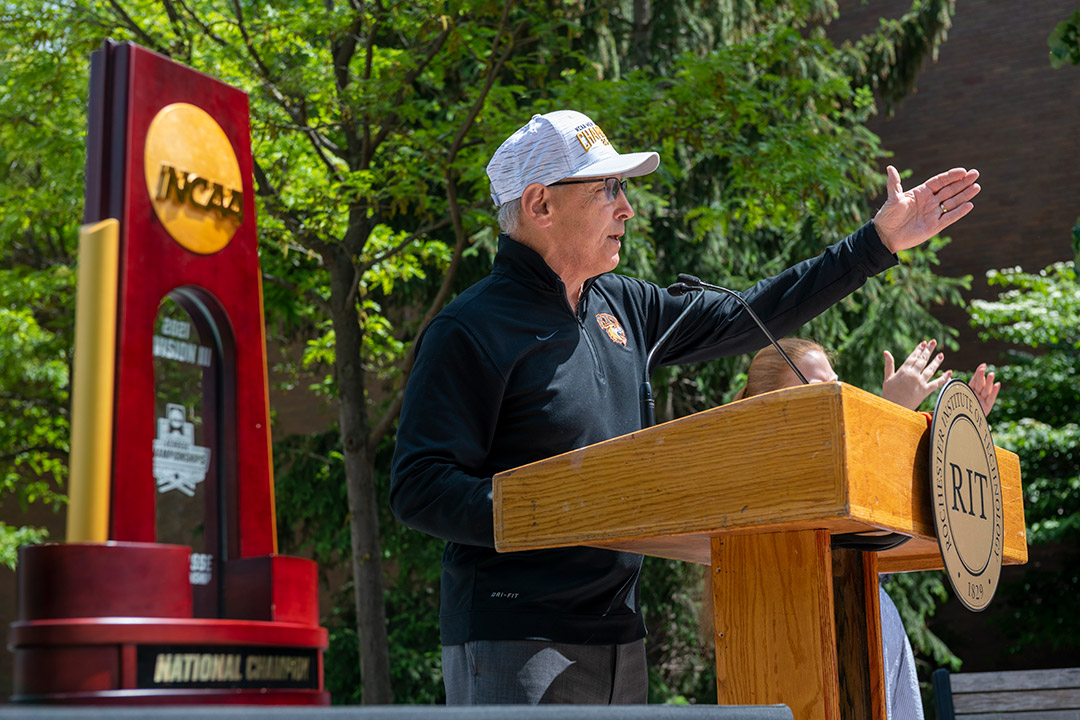 Elizabeth Lamark
Lou Spiotti, the nation's longest tenured director of intercollegiate athletics, has been there for all of it. He retires later this month after serving 47 years at the university, 41 as executive director.
"This has been nothing short unbelievable after all we have been through this year," said Spiotti. It's is hard to put into words and feelings. It's breathtaking."
"It was more than a game," Spiotti told the crowd. "It was a team that put the school on its shoulders. It was a team that gave people a reason to smile and to cheer. It was a team that put RIT back on its feet and gave us a sense of normal … You have brought much pride to RIT. You will go down in history as a team that achieved greatness in spite of so much adversity. This title will band you together as long as you live and will last in the memory of everyone who has been touched by it. Congratulations!"
Spiotti also used the occasion to recognize senior Harley Wilson for finishing an All-American fourth place in the 400 hurdles at the 2021 NCAA Division III Outdoor Track & Field Championships. Her performance clinched her third All-American finish. Wilson also completed Reserve Officer Training Corps (ROTC) and was commissioned an Ensign in the U.S. Navy.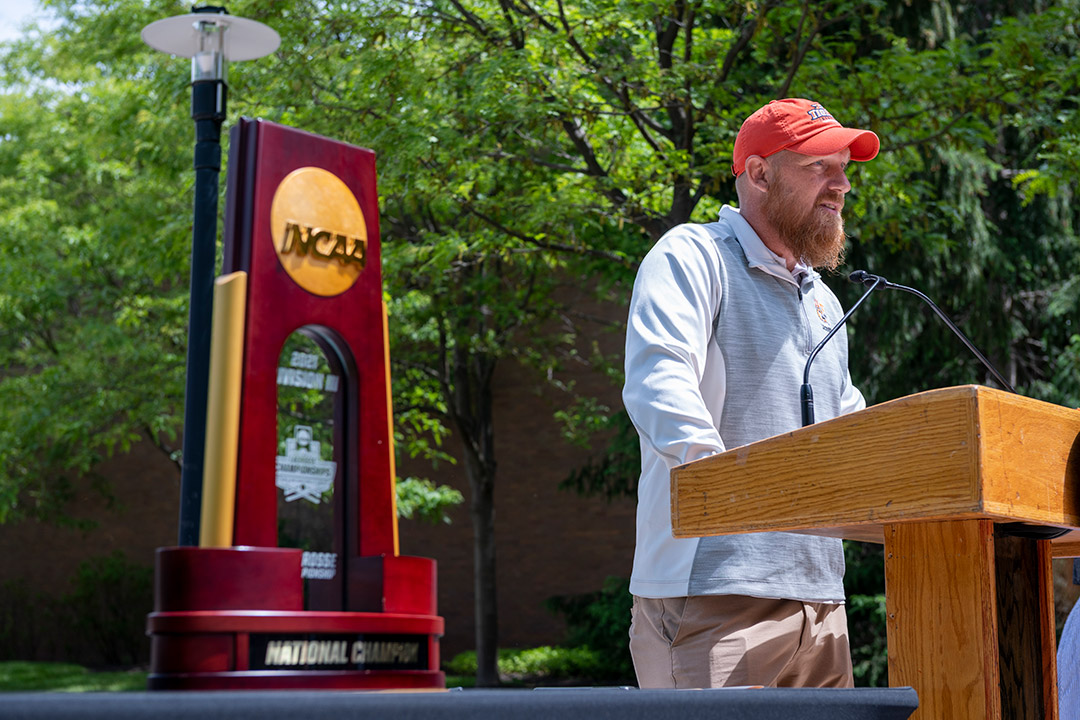 Elizabeth Lamark
The day's final words came from Head Coach Jake Coon, who has solidified the Tigers as a perennial national lacrosse powerhouse. Coon recounted how this wasn't any ordinary season given the 2020 schedule was canceled after only four games due to the pandemic, and that the 2021 campaign was always on edge with a lingering virus still in play.
"It was a trying year," said Coon. "Not knowing day to day if we were going to be on the field or not. Not knowing if we were going to have a positive (COVID-19) case and have issues. To try to keep the team together in a divided time was really difficult. But they stuck with it. They were resilient and there is a lot of love and a lot of life lessons along the way."
After the dramatic championship-winning goal by senior midfielder Ryan Barnable, Coon enjoyed the moment with his fellow coaches and players. And he also looked into the stadium crowd and saw the joy of many familiar RIT faces.
"This is 50+ years of a lot of people putting in a lot of time and effort," said Coon. "These guys are one team of a lot of history here. We are so proud to be the end result of that. I am so fired up and thrilled for all of those alumni who came before us. They deserve this. This is for all of them."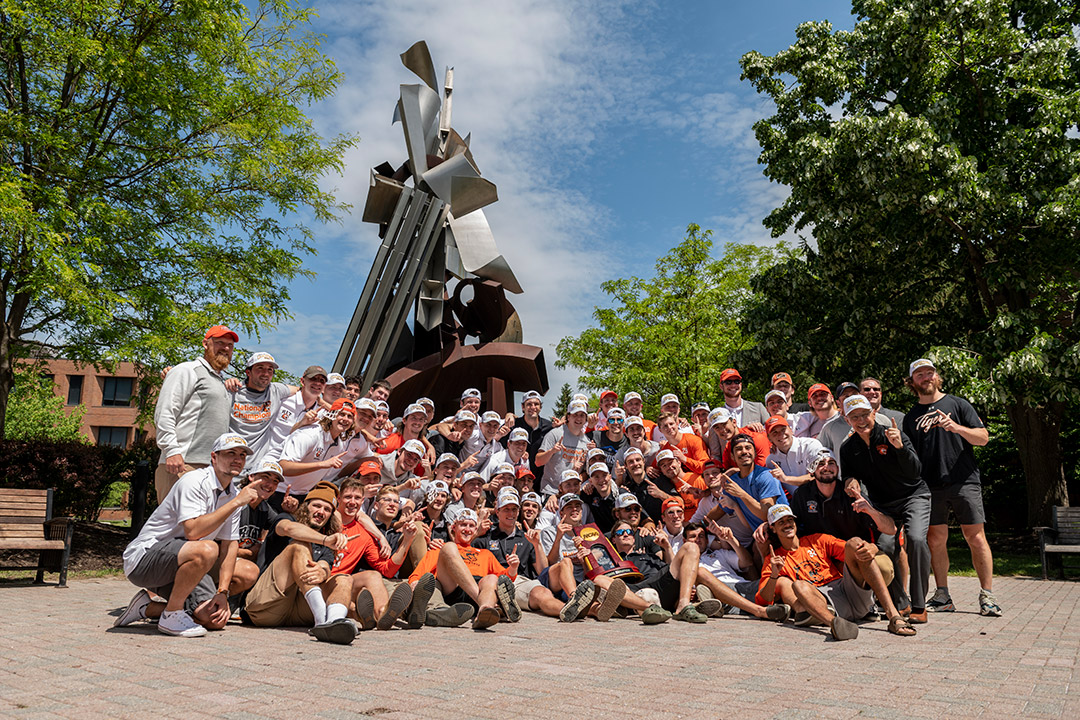 Elizabeth Lamark
Local and national media coverage
Several news outlets highlighted the men's lacrosse win over Salisbury to clinch the 2021 NCAA Division III National Championship, as well as the team's return to campus.
Topics