College of Art and Design hosts 'Gallery Hop' on Friday
Three galleries to host opening receptions for exhibitions beginning Friday, March 24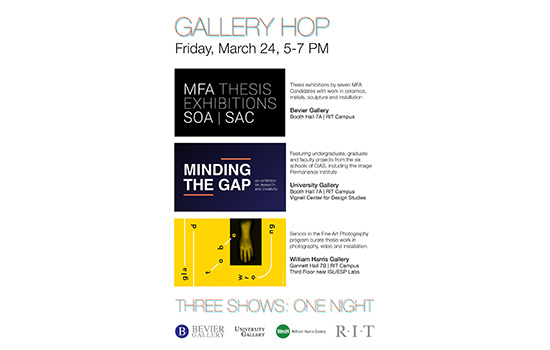 Rochester Institute of Technology's College of Art and Design is hosting its first-ever "Gallery hop" from 5 to 7 p.m. this Friday, March 24, to mark the start of three new exhibitions celebrating MFA and BFA works along with college-wide research in three galleries. Each reception is free and open to the public. Refreshments will be served.
William Harris Gallery, located on the third floor of RIT's Gannett Hall, is hosting "Glad to be Wrong," an annual exhibition curated by the university's fine art photography seniors. Through photography and video, the exhibit will showcase the thesis projects of 13 participating students. The exhibition will be on display until April 7.
Bevier Gallery, 2600 Booth Hall, will host MFA thesis exhibitions showcasing the exceptional bodies of work produced by seven MFA candidates in the School of Art and School for American Crafts, including Kyri Hinkleman, Brianne Nelson, Ayuko Sakurai, Leena Sonbuol, Yuge Wang, Zhihui Wu, and Yi Yang. The show will feature work in ceramics, sculpture, metals and jewelry design through April 8.
The University Gallery inside the Vignelli Center for Design Studies will host "Minding the Gap," an exhibition of research and creativity that focuses on one faculty member, one graduate and one undergraduate student from each of the six schools in the College of Art and Design—in addition to a recent research study led by the Image Permanence Institute. This show presents a wide variety of projects that interweave elements of research in art, design and science. It will be on view until April 14.
"We're inviting the RIT community and beyond to stop by all three galleries and enjoy thoughtful and interesting work from across the college," said John Aäsp, gallery director for the College of Art and Design. "This marks the first time we're highlighting three gallery shows in one exciting night."
For more information, contact Aäsp at 585-475-4977 or john.aasp@rit.edu.