Clean Snowmobile team to compete in March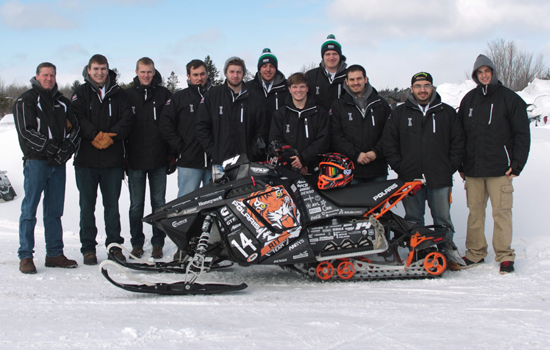 RIT's Strategic Plan in Action—Career Education and Student Success
RIT's Clean Snowmobile team will launch a sled that packs a powerful tread, but leaves a minimal footprint—of the carbon type.
They'll compete at the annual SAE Clean Snowmobile Challenge, taking place March 7-12 on the wintery terrain of Michigan.
As seasoned competitors, they've added some new technology to an already powerful sled and believe the enhancements to the ignition and exhaust systems will be a winning combination. This is their year, said Cody Schuster, team manager.
"The team continues to grow and we're entering this competition with more experience. The dual coil ignition system hasn't been incorporated into the sled before, but we are looking to show that it is do-able," said Schuster, a fourth-year graphic design student from Dansville, N.Y.
The dual coil design could mean higher energy levels for igniting the spark plugs. It is considered key in the next generation engine configuration that could impact engine efficiencies.
The SAE International Clean Snowmobile Challenge is an engineering design competition for college and university students to re-engineer an existing snowmobile to reduce emissions and noise.
Modified snowmobiles compete in categories such as emissions, noise, fuel economy/endurance, acceleration, handling, static display, cold start and design.
The challenge began in 2000 with seven teams. Today at least 20 teams and 200 students compete annually, including sleds from universities in Iowa, Wisconsin, Minnesota and Idaho. RIT, SUNY Buffalo and Clarkson have been New York state representatives for the past several years.
This year, a team from Lapland University in Finland registered.
Most of the 30 team members are part of the mechanical engineering technology program in RIT's College of Applied Science and Technology. Since building their first snowmobile in 2011, RIT's Clean Snowmobile team has made strides, especially in the emissions and design categories.
"I am extremely proud of the team's accomplishment within a very short period of time," said Manian Ramkumar, department chair of Manufacturing and Mechanical Engineering Technology. "It highlights the focus and tenacity of the team in making this a successful club."
Success in this year's event is secondary to learning more about alternative vehicle systems and applying that knowledge as they seek jobs.
"These competitions are a way to show what we as a team can do," said Schuster. "We're in it to win it."
Editor's Note: This story is part of a continuing series that demonstrates RIT's commitment to the new Strategic Plan.