College of Art and Design students brighten Wallace Library with inspirational murals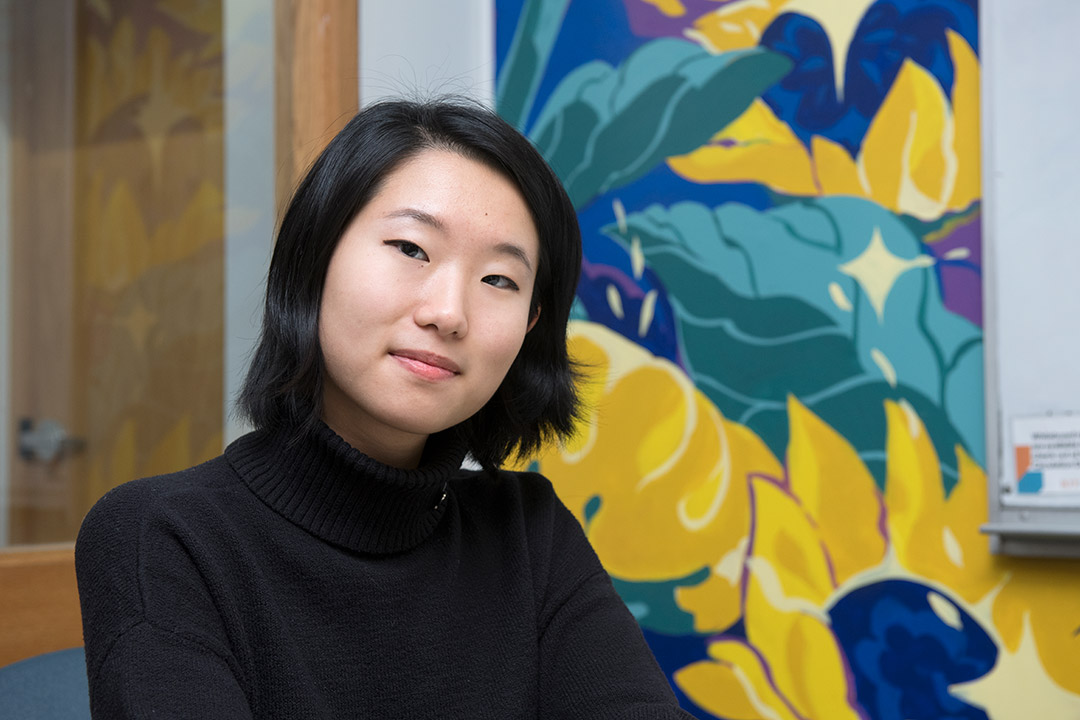 A. Sue Weisler
A mural competition held by RIT Libraries has added a little pizazz to two study rooms on the third-floor of Wallace Library.
Abstract and whimsical designs by College of Art and Design students Nevada Scott and Juho Choi enliven the spaces.
"We wanted to give the rooms a makeover that would inspire students as they study and collaborate in these spaces," said Sara Kuehl, manager of marketing and communications at RIT Libraries. "We held a competition to actively involve students in the process and give them another venue to showcase their talents."
RIT Libraries staff picked Scott's and Choi's designs from 24 submissions.
"It wasn't easy to choose," Kuehl said. "But Nevada and Juho came up with designs that stood out in the way they used the available wall space to transform these rooms."
The students received $200 for their winning designs and a $150 budget for supplies. Scott and Choi approached their murals with a different vision and color palette. Here, the two artists talk about their wall paintings.
Nevada Scott
Nevada Scott is a first-year medical illustration major who lives in Rehoboth, Del. Her mural, titled "Monolith," fills the north wall of room 3695 in Wallace Library.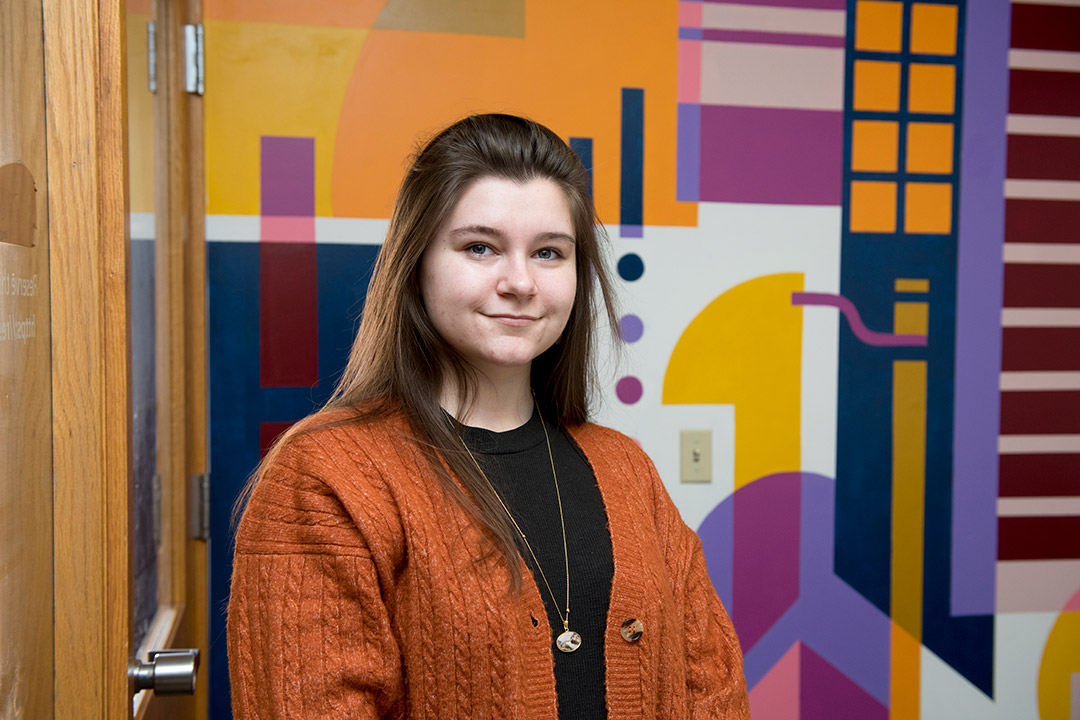 A. Sue Weisler
What made you want to enter the contest?
I was walking around campus and I saw a flyer. I thought this would be a cool way to leave a mark on RIT and to do something for the school with my art.
Have you ever painted a mural?
I've worked on murals before with my mom but never one that was just my own that I designed all the way through, and so I was very happy to be able to do that.
How long did it take?
Thirty hours to execute, three hours to plan.
Why do you call it "Monolith"?
I titled it "Monolith" because I thought the institution itself is in a way a monolith. It relates back to 2001: A Space Odyssey. (One of Scott's favorite movies.) A monolith shows up whenever there's an innovation throughout history, and I thought that was symbolic of the school.
What were your thoughts behind the design?
I wanted to do something that had an RIT vibe, a Brick City vibe with geometric shapes on campus, as well as orange and yellow predominant colors that I thought would also go with the RIT feel. I didn't realize it until after I had designed it, but there is actually an "R" and an "I" and a "T" hidden in it. I thought that was pretty cool.
Did you listen to music while you worked?
Classic rock and a lot of Billy Joel.
Had you ever used the room you painted before the contest?
I didn't know it existed until I saw the flyer for the competition. I do spend a lot of time in the library. I would always be on the first floor.
Do you feel like it's your room?
I do feel like it is, a little bit. I definitely will reserve it sometime in the future. It will be cool to be able to work and see my stuff on the wall. Even three years in the future, sitting there and thinking, oh, by the way, that's me. I did that.
Juho Choi
Juho Choi, a fourth-year illustration major from Mechanicsburg, Pa., painted a field of sunflowers under a night sky that wraps around the whiteboard in room 3570 like the decorative edge in a children's book. She calls her mural "Suns and Stars."
Why did you choose a sunflower theme?
It's meant to be a juxtaposition. I wanted to give a pop of color and a pop of energy to the people who are in the room. Sunflowers energize me, and they're really bright and happy.
Had you ever worked on a mural before?
This is my first time doing a mural, and I found out that l like it, that I really enjoy the feeling of this wall paint.
Was it hard to go from a small idea to a wall-size?
Working large is very difficult because the things you're working on close up are going to be very different than what it looks like looking from afar, so I would have to continuously step back just to see what it looks like from the outside.
A lot of my work is inspired by motion and flow, and I used some of those elements to give dynamism to my piece while tying everything together.
How long did it take you?
Roughly 25 hours. I came on Mondays and Wednesdays. My class would end at 5 p.m., and I would stay here until midnight.
Did you listen to anything while you worked?
I like to listen to podcasts these days because I am graduating, I want to know more about the industry I am going to be working in. I am listening to a lot of art-industry podcasts like Art Side of Life and Graphic Novel TK.
Topics