College restructures and renames growing hospitality school
New direction highlights international tourism, health administration and service leadership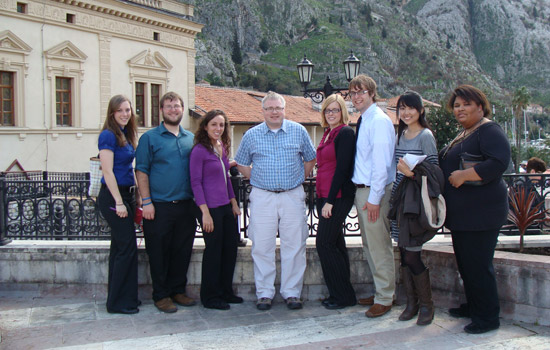 Maueen Shannon
Reflecting its growing programs in hospitality, nutrition, human resource development and service leadership, Fred Walker, dean of RIT's College of Applied Science and Technology, announced that the former School of Hospitality and Service Management has been renamed the School of International Hospitality and Service Innovation.
Within the new school, two departments have been formed: the Department of Hospitality, Tourism and Nutrition Management and the Department of Service Systems. Both will offer undergraduate and graduate courses.
"The faculty and staff of the former School of Hospitality and Service Management provided guidance and thoughtful insight into this reorganization," says Walker. "With our new school and new departments, we are better poised to reach higher levels of academic excellence and increased student satisfaction, while continuing to prepare our students to best meet the demands of industry."
Hospitality, tourism and nutrition management will encompass the undergraduate programs in hospitality, service management and nutrition as well as the graduate program, hotel-tourism. The programs will be administered by interim chair Carol Whitlock. Department personnel and facilities, such as the teaching restaurant, Henry's, and its adjacent, professional kitchen will remain in their current location on the fourth floor of Eastman Hall. A renovation will occur within the offices and work spaces of Eastman Hall to include the expansion of walk-in cooler and freezer space; creation of an integrated dry goods, food, liquor storage facility on the fourth floor; the addition of refrigeration/freezer space; the installation and replacement of selected doorways; and technology updates to include card swipes on selected doorways.
The Department of Service Systems will include undergraduate service courses and graduate programs in health systems administration, service leadership and innovations, and human resource development. The Department of Service Systems will be led by interim chair Linda Underhill. Members of the department have been relocated to the second floor of Ross Hall.
The college will begin a national search for permanent chairpersons of the departments in 2011.
##