Comedians announced for FreezeFest 2016
Comic headliners are just part of a three-day celebration of cold-weather fun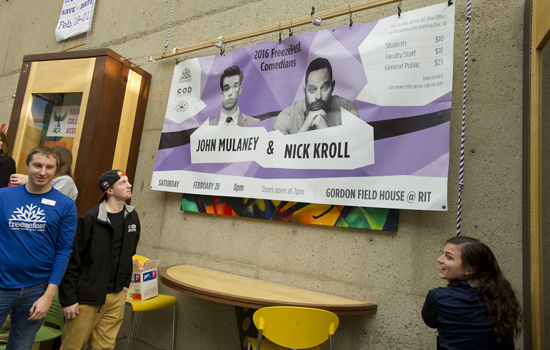 A. Sue Weisler
John Mulaney and Nick Kroll have been selected as the comedians who will be appearing at Rochester Institute of Technology's FreezeFest on Feb. 20.
The festival, Feb. 19-21, is one of the largest events on campus and the largest in the winter season. It also will feature Chocolate on Ice open skating, the FreezeFest 5K run and RIT men's hockey vs. Niagara University.
"The goal of FreezeFest is to bring the RIT community together in new ways to celebrate Rochester's cold and snowy months," said Bill St. Jean, associate director for campus programs. "Since its inception in 2010, FreezeFest has brought students, friends, families and the RIT community together for an assortment of winter-themed programs and events."
Mulaney began working at Saturday Night Live in 2008 where he appeared as a "Weekend Update" correspondent. He stars in the sitcom, "Mulaney" on the FOX network about a rising stand-up coming trying to take his career to the next level.
Kroll was creator and star of Comedy Central's "Kroll Show" which ran for three years, and most recently has been working with his long-time friend, Mulaney, on an off-Broadway show, "Oh, Hello."
Tickets for Mulaney and Kroll are $10 for students, $18 for RIT faculty and staff and $23 for the public, and available at the RIT box office.