Communication conference highlights undergraduate research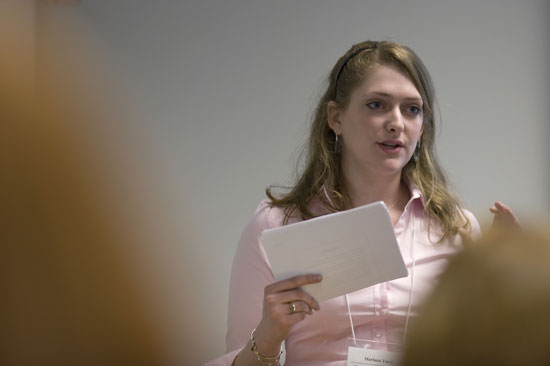 A. Sue Weisler
The Department of Communication at RIT presented its 7th annual Conference for Undergraduate Research in Communication April 14 on campus. Since it began in 2004, the conference has drawn approximately 300 students from 28 different colleges and universities. Research topics have spanned the themes of advertising, new technologies, relational communication, social media and media criticism.
"Communication, in all of its facets, plays an incredibly important role in numerous areas of society, from business, to entertainment to public policy," notes Rudy Pugliese, professor of communication at RIT and director of the conference. "This conference seeks to enhance opportunities for undergraduate research, provide students the opportunity to present their findings to their peers and ultimately to enhance the skills of our next generation of communication professionals."
Angela Strouse of RIT received a top paper award for her article, "The Internet and Political Engagement of Youth." Her research focused on the use of the Web to increase political activism and voter participation among young people.
"I think the best part of the conference was the opportunity to see what other students from different schools were researching," says Strouse, a fourth-year professional and technical communication major. "It was really interesting to hear the variety of topics that students were doing research on and the different results they were getting."