Companies with RIT ties win business competition
The top two companies have strong ties to RIT, win thousands and incubator space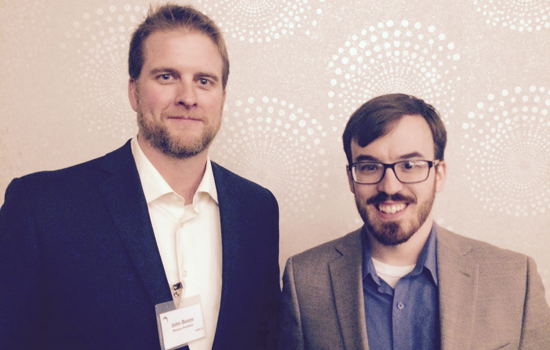 Greg Livadas
Two start-up businesses with CEOs who are alumni of Rochester Institute of Technology took first and second place today at the 2015 Rochester Venture Challenge, formerly known as the Rochester Regional Business Plan Contest.
Splyce eSports, which is developing free websites that allow eSports fans to spend less time searching for games and more time enjoying them, was the first-place winner. CEO and co-founder is Marty Strenczewilk, a 2011 master's graduate in environmental safety, health and management. He won $25,000, up to a year of office space at RIT's Venture Creations business incubator and services from Dixon Schwabl advertising.
Second place and $5,000 went to Mendon Precision, which is manufacturing harvesting implements for the hops farming industry. Founder and CEO is John Bonzo, director of RIT's Brinkman Lab, who received bachelor's and master's degrees in industrial and systems engineering from RIT in 2002 and 2006.
Twenty-four companies entered this year's competition, which has a goal to encourage entrepreneurship while recognizing and rewarding the most promising start-up companies in the nine-county Finger Lakes region. The five finalists gave presentations prior to the 7th Celebration of Entrepreneurship Luncheon at the Hyatt Regency Hotel in Rochester.
Judges were Nasir Ali, CEO of Upstate Venture Connect; Don Golini, chairman of Rochester Angel Network; and Rami Katz, COO of Excell Partners.
Keynote speaker was Josh Linkner, a venture capitalist, best-selling author and four-time tech entrepreneur from Detroit.
RIT's Venture Creations business incubator was a co-sponsor of the competition.