Company co-founded by RIT professor wins $1 million grand prize at GENIUS NY competition
Travis Desell and Airtonomy are using win to expand autonomous drone business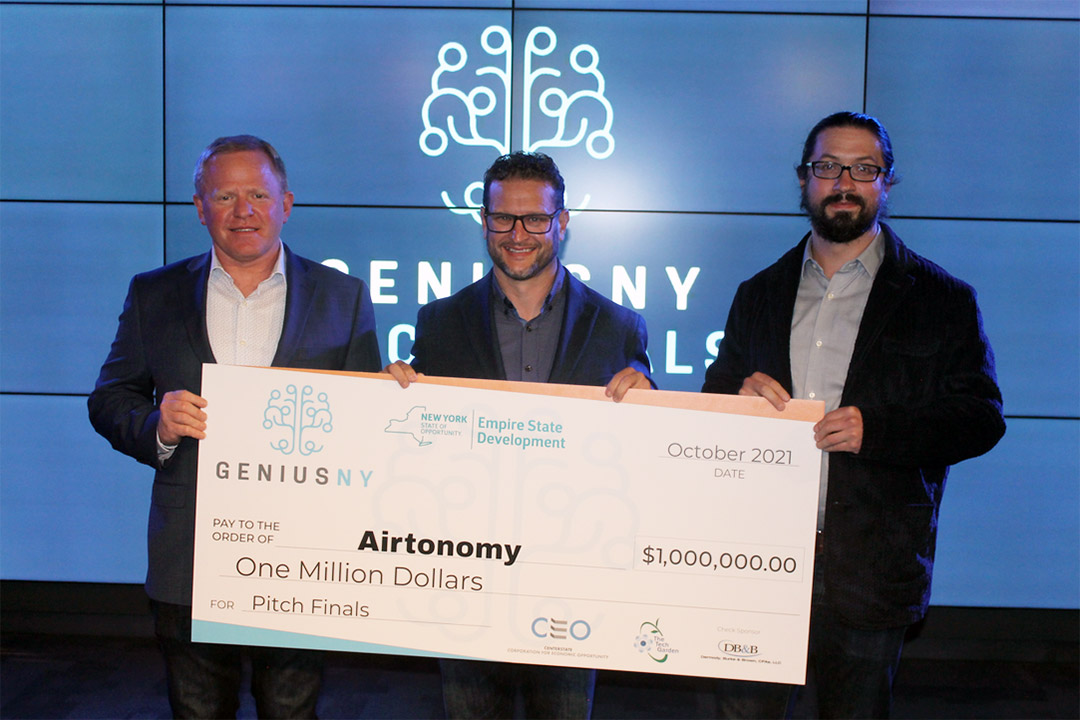 Rochester Institute of Technology data science professor Travis Desell has a drone data management business that's really taking off.
The company, called Airtonomy, was awarded the $1 million grand prize at the GENIUS NY international accelerator competition in October. The company was selected from more than 600 applicants during the year-long GENIUS NY program, which is the world's largest business competition focused on unmanned systems, cross-connected platforms, and other technology-based sectors.
Now, Desell and his Airtonomy co-founders are using the investment to grow the company and expand its presence in the region and across the country.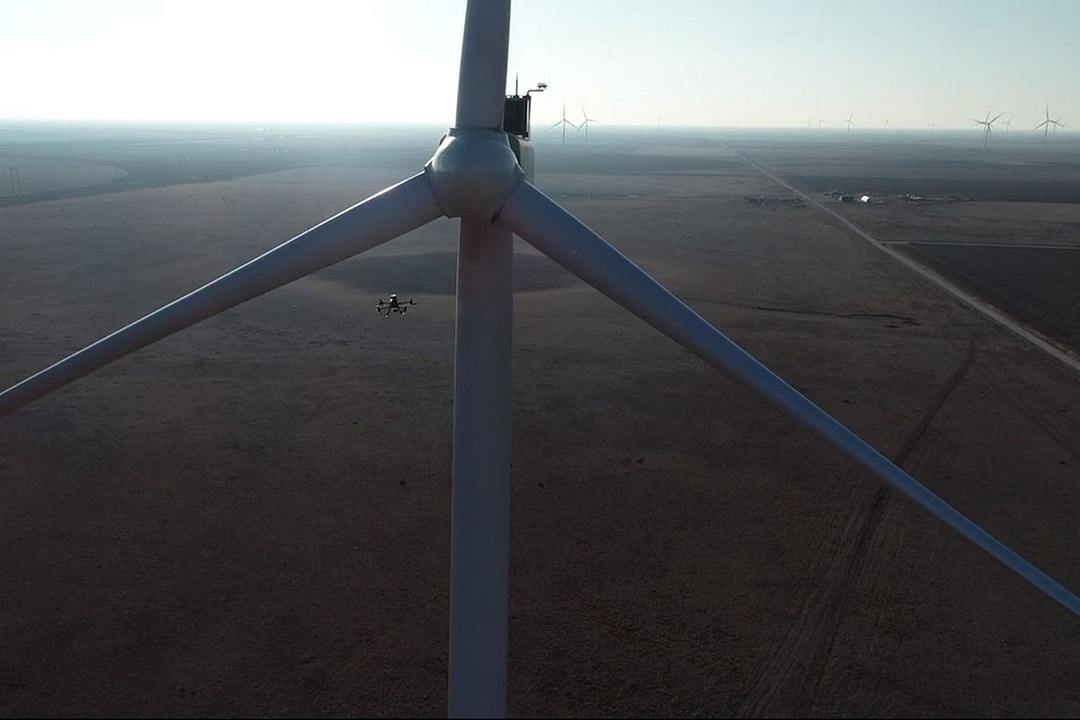 Airtonomy
"We spent a lot of time and effort on building this idea over the past few years," said Desell, an associate professor in RIT's Department of Software Engineering. "It's nice to get this recognition and help to expand. I'm also excited to hire RIT graduates that want to work in this space."
Airtonomy offers a fully autonomous, drone-based solution for inspecting wind turbines and other critical energy infrastructure. Airtonomy then analyzes and packages the data collected, so that companies can detect failures before they occur.
Typically, power companies need to hire a certified drone pilot or have someone climb up to manually inspect wind turbines for lightning damage, cracks, and other problems. Instead, Airtonomy enables existing employees to launch a fully autonomous flight routine by a drone, or unmanned aircraft systems (UAS), with minimal training and a simple push of a button. That way, existing staff—including technicians, power lineman, and others—can easily conduct inspections and operate the drone safely. During the flight, the UAS captures highly detailed images of every part of the wind turbine.
"This saves companies time and money on maintenance costs," said Desell. "Instead of hiring professional pilots to do inspections only a couple times a year, they can do their own inspections weekly. It's more efficient."
As soon as the UAS lands, imagery data is uploaded to an easy-to-use interface. Using machine learning, possible damage is detected and labeled. Customers can do an inspection and get their analyzed data within 30 minutes.
"One of the biggest problems we look to solve is managing the data pipeline of these large scale images and making sure the inspection information is actually useful for our customers," said Desell. "Because it's autonomous, we can also get more uniform and reliable imagery than any humans can."
Airtonomy began in 2018 in Grand Forks, N.D. At the time, Desell was an associate professor at University of North Dakota—where he met his Airtonomy co-founders Joshua Riedy and Jim Higgins. They began working with Xcel Energy, a utility company that services more than 3.7 million customers in the Midwest.
Airtonomy now has 25 employees and a satellite office in Syracuse, N.Y. They have inspected more than 2,000 wind turbines this year alone and have already secured contracts for 2022.
During the GENIUS NY program, Desell said that they worked on a business plan and pitches for their company. GENIUS NY, which is administered by CenterState CEO's Tech Garden in Syracuse, offers participants incubator space, company resources, programming, and mentoring. Of the five finalists for the program, three were international and one was RIT Venture Creations client company Circle Optics.
"The energy and innovation Airtonomy represents is vital to continuing to build a thriving entrepreneurship economy in Central New York, and we look forward to helping them build out their operations in our region," said Kara Jones, director of GENIUS NY at CenterState CEO. "New York state has a wide variety of industries that Airtonomy can tap into, including energy, agriculture, and technology. The substantial Central New York science, technology, engineering, and math (STEM) employee population provides an impressive array of human capital to also support their hiring growth."
Desell said that Airtonomy is going to expand in New York state and add another 20 different types of inspections—including transmission power lines and distribution power lines. Just last year, Airtonomy created an inspection for Royal Dutch Shell oil tanks in Texas—without ever having to step foot in Texas.
Since starting at RIT three years ago, Desell has worked to design the master's degree program in data science, one of the fastest growing graduate programs at the university.
Topics