Computing for All: Changing the way computer science is taught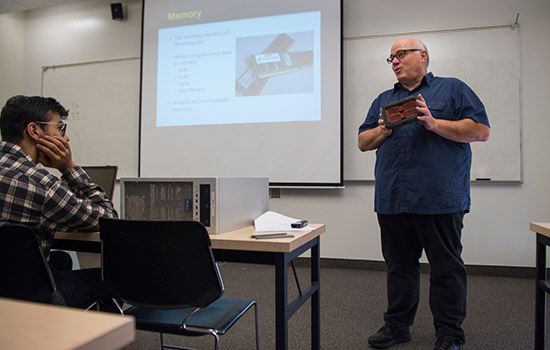 Brittainy Newman
Before getting behind the wheel of a car, it's important to know a little bit about how an automobile works.
"The same can be said for your computer," said Paul Tymann, director of the Center for Computing Outreach, Research and Education at RIT. "I don't think you can be successful in today's society without having a basic understanding of how computing works."
To better prepare students for careers that will be shaped by computers, RIT's B. Thomas Golisano College of Computing and Information Sciences (GCCIS) is establishing the Computing for All initiative. By changing the way computer science is taught, Computing for All aims to spark an interest in computing for students from all disciplines, backgrounds and ages.
Inspired by President Obama's 2016 Computer Science for All initiative, the RIT program shares the goal of empowering students to learn computer science and equipping them with computational thinking skills needed to be creators—not just consumers—in the digital economy.
"We also thought that RIT needs to do something to better prepare the next generation of college students, who grew up using computers every day," said GCCIS Dean Anne Haake, who spearheaded the initiative with Tymann. "Computing for All is a great way to bring all of our teaching, research and outreach efforts together under one umbrella."
To start, RIT is changing the way that non-computing majors first learn about computing in the introductory Computer Science Principles course.
Yara Rose, a second-year biotechnology and bioinformatics student who took the elective last semester, said the course sparked her desire to double-major in an area that focused on technology, as well as computing.
"I didn't take any computer science classes in high school, so I used to see myself as computer ignorant," said Rose, who is from Kaaawa, Hawaii. "But the class opened my mind to all the things that programming could allow me to do within biology."
The class starts with a history of the computer and moves on to how words and images are represented on the screen. Students also learn about algorithms, loops, how Google searches work and begin some programming.
"We want students to have an appreciation for computer science and learn how to work with computing professionals," said Tymann. "The challenge is developing exercises that allow students to create something meaningful, with only a minimal background in coding."
In the new format, programming assignments are done using a flavor that is more appropriate for the specific students in the course.
Classes that have liberal arts students might write an app that analyzes political tweets or literature. For science majors, the exercise might allow students to create a database that finds patterns in DNA. Art students can develop a program that allows them to modify colors in a photo.
"The Golisano College embraces a vision in which the computing domain is accessible to everyone, regardless of discipline, disability or diverse background," said Haake. "To solve human challenges big and small, we will shift the focus from the technologies that make up the discipline to the people who use them."
Other goals of Computing for All include community outreach with libraries, schools and workshops. Research and work is also being done to change the way that computing is taught in K-12 and college.