February 22, 2019
by Luke Auburn
Construction begins on RIT Dubai's new campus
State-of-the-art new campus in the Dubai Silicon Oasis scheduled to open in 2020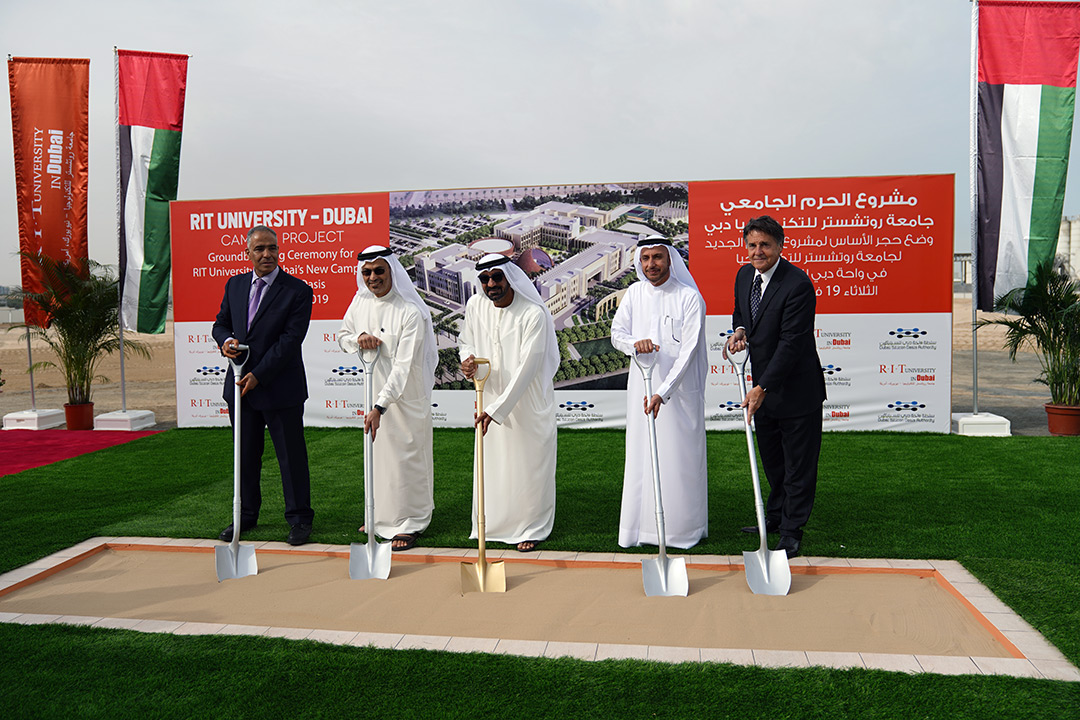 Ground broke on RIT Dubai's state-of-the-art new campus in the Dubai Silicon Oasis on Tuesday.
The new campus, which will feature an innovation and entrepreneurship center and sustainable building processes, will be developed in two phases. Phase one of the project will span more than seven acres and is scheduled to be completed early in 2020. Phase two is scheduled for handover in 2023, adding more than 28 acres to the campus. The United Arab Emirates government is funding the approximately $136 million project.
Since launching in 2008, RIT Dubai's enrollment has grown steadily. In the fall, RIT Dubai enrollment grew to more than 600 students, but the new campus will be able to accommodate up to 4,000. The state-of-the-art academic complex will house five colleges – Electrical Engineering and Computing, Mechanical and Industrial Engineering, Business Administration, Sciences, and Humanities.
"We are so proud of our business relationship with Dubai Silicon Oasis Authority that goes back to 2008," said RIT President David Munson. "We are also grateful for giving us the opportunity to contribute to building the human talents in specific areas. Dubai is a very dynamic and rich city with massive experience, and we look forward to jointly enrich our experiences thorough research and development, students and faculty exchange programs and many more."
Topics