Couple receives RIT's prestigious NRS award
Award to be presented Nov. 10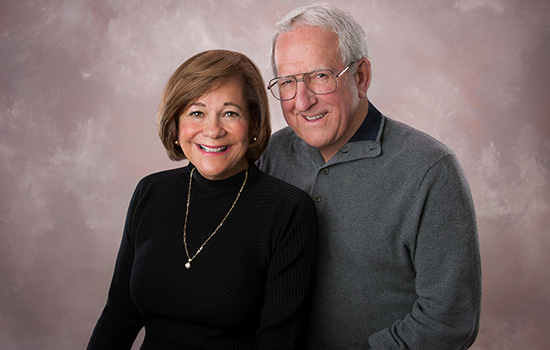 Two longtime supporters of Rochester Institute of Technology, Sandra A. Parker and John M. "Dutch" Summers, will receive the 2016 Nathaniel Rochester Society Award.
The couple will be presented with the award at a celebration Nov. 10 at The Wintergarden in downtown Rochester. The annual honor recognizes individuals who have made outstanding and significant contributions to the university's advancement.
"Dutch and I have always had high regard for those honored by the Nathaniel Rochester Society for their philanthropy," Parker said. "We are so pleased to now be part of that very special group of people."
Parker, who served nine years as president and CEO of the Rochester Business Alliance (RBA), known today as the Greater Rochester Chamber of Commerce, has been a trustee at RIT since 2002 and currently sits on the University Relations core committee.
She has been a generous benefactor to RIT over the years, and in 2013 she established the Sandra Parker Scholarship to RIT students participating in the RIT Rochester City Scholars Program.
The recipient of this year's Sandra Parker Scholarship, business management student Tarchia Cox, plans to attend the event.
Summers has been a trustee at RIT since 1996 and a trustee emeritus since 2010. Summers currently serves as CEO of Graywood Companies, a Rochester holding company involved in residential and commercial real estate as well as the operation of Jasco Heat Treating and Jasco Pharmaceuticals LLC. Summers had been CEO of Jasco Tools Inc., a global provider of standard and specialty cutting tools, custom components and heat treatment services.
He has been involved in numerous RIT boards and committees, including the Kate Gleason College of Engineering's Strategic Planning Advisory Board and the Center for Integrated Manufacturing Studies' Advisory Board, and is a former Nathaniel Rochester Society Scholarship committee chairman. He has supported scholarship funds and construction or renovation of campus facilities.
The mission of the Nathaniel Rochester Society is to develop friends and ambassadors to promote and support RIT. The NRS Award, established in 1972, has been permanently endowed through the generous gift of Mr. and Mrs. Marcus N. Barbour, charter members of the organization.
Since 1967, the Nathaniel Rochester Society has celebrated leaders who choose to extend their impact beyond philanthropy, and also advocate for the university in the community, industry and education. NRS members have a lasting impact on RIT and students through leadership level gifts to scholarships, academic areas, athletics, student organizations and other areas. Past recipients of the NRS Award include the Gosnell family, B. Thomas Golisano and E. Philip Saunders.