Creating a game based on a 500-year-old painting
RIT professor creates 'The Garden' game inspired by 500-year-old painting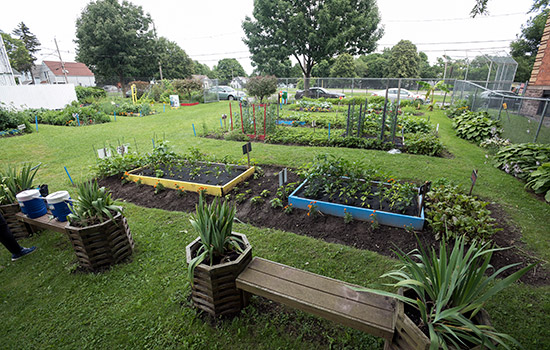 A popular painting created more than 500 years ago is finding a new life in the form of an interactive game created by Rochester Institute of Technology students and faculty members, and will be featured in an upcoming juried art show in Denmark.
"The Garden of Earthly Delights," by Hieronymus Bosch, a Dutch painter who died in 1516, is a triptych of three panels that some believe chronicle the perils of life's temptations.
"The Garden," in the prototype stage, was conceived more than year ago by Elizabeth Goins, an associate professor in the Performing Arts and Visual Culture Department in RIT's College of Liberal Arts. It is a narrative-driven game that is a digital interpretation of the painting. Players are presented with themes, historic texts, dialogue, game play, mechanics and art.
"The concept behind 'The Garden' was to create a 3-D digital game interpretation of the painting, but we did not want to simply recreate it in a virtual world," she said. "We wanted to make a game to help people understand the artist's meaning and also act as a bridge to connect them to the time and culture of this part of history."
Numerous faculty members from RIT's Golisano College of Computing and Information Sciences and students from the College of Imaging Arts and Sciences also helped in the project, she said.
Goins credits RIT's Center for Media, Arts, Games, Interaction and Creativity (MAGIC) Director Andrew Phelps and Associate Director Christopher Egert for their support in the game's development and is seeking grants to further develop it.
But her project is already turning heads. It was accepted into a juried art show in Copenhagen, Denmark, at the 8th International Conference on Interactive Digital Storytelling Art Exhibition on Nov. 30, and she'll be demonstrating it at the Harvard University Digital Futures Consortium in December.
"We're really excited about it," Goins said. "We've submitted it in festivals for review and are hearing back that the concept is awesome."
In the game, players find a strange underworld. "Here, hell is beautiful and invites exploration, but poisonous secrets are buried beneath the façade," Goins said. "The player must search for a way out by jumping from soul to soul while avoiding the relentless demon horde run by the bureaucrats of hell. The game puts them in the position of questioning who they really are and what the ultimate objective is in a way, we hope, parallels Bosch's understanding of choice and salvation."