Datto celebrates opening of new Rochester offices
Leading technology vendor embarks in START-UP NY partnership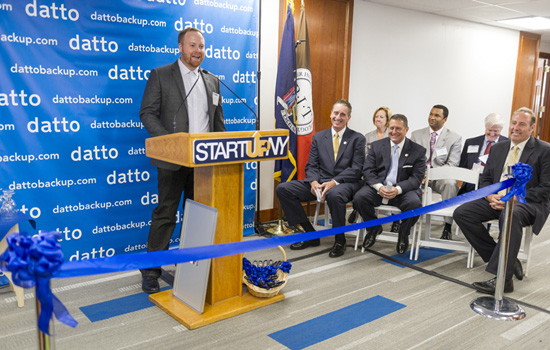 Elizabeth Lamark/RIT Production Services
Note: Reaction from state and regional leaders is available online.
Datto Inc., the premier global provider of backup, disaster recovery (BDR) and Intelligent Business Continuity (IBC) solutions, announced today the grand opening of its new office space in Rochester. Joined by New York Lt. Gov. Robert J. Duffy, other state and local elected officials and Rochester Institute of Technology President Bill Destler, Datto founder and CEO and RIT graduate Austin McChord cut the honorary ribbon to the 12,000 square foot facility.
As one of the first companies to join the START-UP NY program in June, the company takes the fourth floor of the RIT-owned 40 Franklin St. in downtown Rochester, site of the historic former Rochester Savings Bank. The first class of Rochester-based employees will join Datto's award-winning 24/7/365 technical support department serving partner needs around the world.
"It feels great to not only expand Datto to new areas, but also to give back to a city I love," stated McChord. "It's a dream come true to bring jobs to Rochester. Thanks to Governor Cuomo's vision for business expansion and economic development in creating START-UP NY, we're able to do just that. RIT was also instrumental in helping support and guide us through the process and we're thrilled to be here."
Since its inception in 2007, Datto is experiencing rapid growth with multiple high double-digit growth years while achieving nearly $50 million in revenue in 2013. The company has more than 300 employees worldwide spread across six offices; Headquarters in Norwalk, Conn., offices in Toronto, London, Sydney and Rochester, along with a build facility in Monroe, Conn. Most recently Datto was named to the prestigious Inc. 500 list for the third consecutive year, ranking No. 314 overall, No. 5 in security and No. 1 fastest-growing privately owned company in the state of Connecticut.
"Datto's decision to invest in Rochester is the perfect example of how START-UP NY is providing a jolt to the local economy by bringing jobs and new businesses to Upstate," Cuomo said. "By partnering with RIT to open this new facility, Datto is helping to cement the Finger Lakes as a hub for groundbreaking technologies. I am proud that the state was able to play a role in bringing this company to downtown Rochester, and I look forward to seeing it drive the local economy for years to come."
"Datto's new expansion in the Rochester Institute of Technology's downtown campus is a big win, not just for the city, but for the entire Upstate region," said Duffy. "This is an example of how START-UP NY is growing the economy and bringing jobs to communities across our state, and it is one that will solidify Rochester as a hub for groundbreaking new industries. I want to thank RIT, Datto and everyone else involved in making this exciting announcement possible."
In conjunction with the START-UP NY initiative, Datto is committed to creating more than 70 jobs in Rochester over the next few years.
"Datto is the kind of success story that makes RIT very proud, and it is especially gratifying that Greater Rochester will now be part of that success," said Destler. "I want to thank Datto CEO and RIT alumnus Austin McChord for deciding to establish this significant presence in downtown Rochester, and for providing outstanding career opportunities for our graduates. And, of course, thanks to Governor Cuomo and his START-UP NY initiative for enabling us to bring this highly successful technology company to our city. This is a textbook win-win-win: For the state, the community and for RIT's students and graduates. And it's a win we're striving to replicate in future collaborations with other successful alumni, our Venture Creations incubator graduates and other industry partners."
McChord, who started Datto in 2007 while finishing his degree in bioinformatics from RIT, added, "Our goal is to be the best employer in the Rochester area. There is an unlimited, untapped technical talent in the area and I hope we start a wave of other companies moving to Rochester, driving the economy and taking advantage of the vast talent pool in the region."
"I am honored to welcome Datto Inc. to downtown Rochester and I look forward to watching this company grow even faster by tapping into the resources of Rochester, RIT and New York state," added Mayor Lovely A. Warren. "I applaud RIT for leveraging the opportunities presented by Governor Cuomo's START-UP NY program to advance our city's position in the knowledge economy. The arrival of Datto in downtown Rochester is yet another example of RIT's commitment to our community."
Datto is actively fielding employment inquiries for all offices, including the Rochester site. For more information on Datto and job openings, visit www.dattobackup.com and careers.dattobackup.com, respectively.
About Datto:
Datto Inc. is the preferred provider of hybrid cloud-based backup, disaster recovery (BDR) and Intelligent Business Continuity (IBC) solutions for the Channel. Datto provides best-in-class technology, including many proprietary, and 24/7/365 Tech Support to its 8,000 partners worldwide. Unique feature sets include instant local and off-site virtualization, Screenshot Backup Verification, Inverse Chain Technology, and End-to-End Encryption. www.dattobackup.com
About START-UP NY:
START-UP NY seeks to accelerate entrepreneurialism and job creation across the state on a large scale, with a particular focus on Upstate New York. The Empire State's expansive public and private higher education institutions serve as the framework of the START-UP NY program, to attract high-tech and other start-up businesses, venture capital, new business and investments from across the globe. Under the program, businesses that create net new jobs, such as Datto Inc., will operate tax free for 10 years—paying no state income, business, corporate, local, sales or property taxes or franchise fees. START-UP NY is the only state economic development initiative in the nation to offer a zero tax rate to businesses that create jobs.