Denis Cormier named to prestigious Brinkman Professorship at RIT
Additive manufacturing and rapid prototyping technology will be focus of research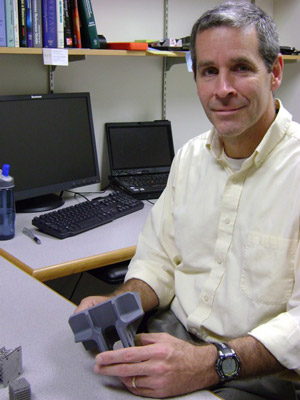 M. Cometa
Rapid prototyping and 3-D printing of metallic or plastic products are two of the growing trends in manufacturing discrete materials. Leading the research into these technologies is Denis Cormier, recently appointed the Earl W. Brinkman Professor of Machining and Manufacturing in the Kate Gleason College of Engineering at Rochester Institute of Technology. Cormier, formerly associate professor at North Carolina State University, joined the faculty of industrial and systems engineering at RIT in September.
Cormier also received a five-year grant recently from the U.S. Department of Energy for "Science-based nano-structure design and synthesis of heterogeneous functional materials for energy systems." The research continues his work in rapid prototyping and additive manufacturing with a focus on printing nano-inks to produce energy devices such as fuel cells and batteries.
"When the opportunity came up at RIT, it piqued my interest," says Cormier. "It is a nice opportunity to be closer to family, on a personal note, and to take advantage of RIT's expertise in printing technologies."
Originally from Pleasant Valley, a town near Albany, Cormier returns to upstate New York after several years teaching in North Carolina. While at North Carolina State, Cormier was a member of the industrial engineering department. He also served as affiliate faculty in the biomedical engineering and integrated manufacturing and systems engineering departments. He taught courses in product engineering and rapid prototyping, content areas he will continue teaching at RIT along with courses in rapid manufacturing and manufacturing processes.
Cormier received his undergraduate degree at the University of Pennsylvania and master's degree from the State University of New York at Buffalo. He completed his doctoral degree at North Carolina State in 1995. Among his many awards and honors from community and industry organizations, he received the Outstanding Young Manufacturing Engineer Award in 2003 from the Society of Manufacturing Engineers.
"We are very excited that we were able to attract such an outstanding individual into this position," says Jacquie Mozrall, department head, industrial and systems engineering. "Denis brings strong academic credentials coupled with a wealth of applied research experience across a broad array of areas, including the aerospace and biomedical industries."
Mozrall also acknowledged the support of the Brinkman Family Foundation that positioned the department and engineering college to be able to attract high caliber individuals such as Cormier to lead the Brinkman Lab and associated efforts in advanced manufacturing processes.
##
Topics