Designer opens furniture store in India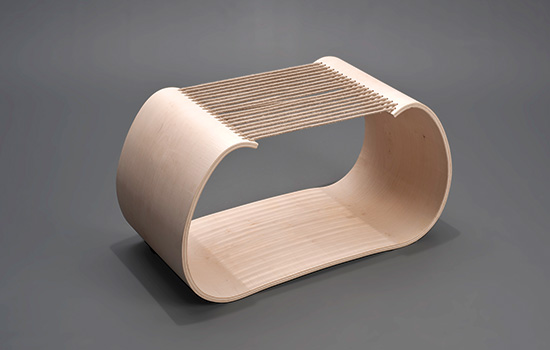 Manasi Manjrekar can attribute her interest in industrial design to table tennis.
When she was in seventh grade in Mumbai, India, she would pass by high-end furniture stores on her way to lessons. Sometimes, when her parents were late picking her up, she would go inside, drawn by the lights and the glitz.
"Slowly it caught my interest," Manjrekar says. "I wondered why the products are in such a form."
But when it came time to apply to college, she didn't know how to translate her love of furniture into a career. She tried architecture school but dropped out a week later after she realized she didn't want to build buildings. She hadn't heard of industrial design until she talked to her brother's friend on the telephone. Her brother, Aditya, was studying industrial engineering at RIT at the time.
Manjrekar researched it, explained the program to her parents—who were more familiar with traditional occupations such as doctors, accountants, lawyers and engineers—and applied to RIT. She started in the winter of 2006.
Six years later, Manjrekar '10 (industrial design) is still explaining her love of furniture, but now it's to the residents who live in the financial capital and biggest city of India. In May 2012, she opened her own retail outlet, called Confluence Elite—The Concept Store, in the Santacruz section of Mumbai. The 2,500-square-foot store features 60 of Manjrekar's original designs, many of which were conceptualized while she was a student at RIT. The business is in collaboration with her parents. Behind the store, she has a separate workshop where skilled carpenters make the furniture designed by Manjrekar. The company employs 17 people.
Manjrekar says her designs are useful and conventional, following guidelines she was taught by her professors. One popular piece is a corner stool called Plectrum, which Manjrekar developed at RIT to resemble a guitar pick.
Another is a seat that when flipped upside down becomes a coffee table. She created that while taking a summer course in Scandinavian furniture design in Copenhagen, Denmark.
The furniture can be customized by size, shape and color as long as it stays true to the design. Along with her own furniture, Manjrekar displays the work of other Indian and international designers.
Stan Rickel, program chair and graduate director of the industrial design program at RIT, says it's not uncommon for designers to become entrepreneurs as a way to pursue their love of design. Manjrekar, he says, is a good example for students.
But building a store from the ground up has been a challenge for the 23-year-old. Although her parents are entrepreneurs, they have expertise in finance and lubricant oils. They pushed Manjrekar to do her own research and create a business plan. While doing research, many of the people she talked to were skeptical because she didn't have work experience or a business background. That just made Manjrekar, who describes herself as stubborn, more determined.
"I've learned more about business during these past two years than I would have ever bothered to understand in 15 years of working at some other place," she says. "This is quite different and challenging from what we usually do, but it's exciting."