Destler and Johnson honored with gala dinner, gifts
RIT announces $3.6 million in gifts celebrating its retiring president and his spouse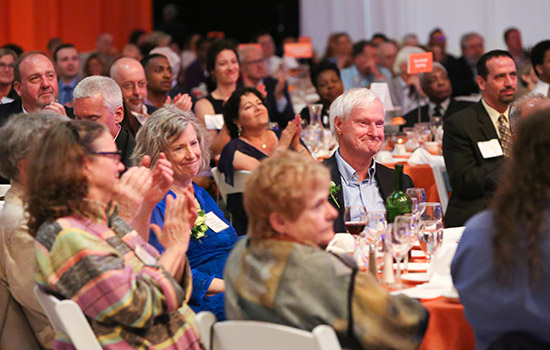 RIT bid a fond farewell to retiring President Bill Destler and his spouse, Rebecca Johnson, in part by announcing $3.6 million in donations raised in their honor.
"Trustees, President's Roundtable members, members of your RIT leadership team, alumni, parents, community members and many, many others have stepped forward to make gifts in honor of your leadership," Greg Westbrook, an RIT alumnus who serves on the roundtable, told nearly 600 people gathered Saturday on campus for a gala dinner to honor the couple. "Donors far and wide have demonstrated their gratitude by supporting programs that serve your personal passions."
Westbrook, who graduated from RIT in 1981, was joined by RIT Trustee Jeff Harris, a 1975 graduate, in announcing:
Creation of the Dr. Rebecca Johnson Sustainability Champion Award, which will be given annually to faculty or staff whose research, project or campus initiative advances sustainability at RIT. Special priority will be given to those initiatives positively impacting RIT students. Donations of nearly $40,000 will allow the award to be given in perpetuity.
Donations of $770,000 to support the Rochester City Scholars program, which was founded by the couple in 2010. The program has provided full tuition to RIT as well as academic and social support to more than 150 graduates of the Rochester City School District and approved charter schools who meet academic and other eligibility requirements. To date, gifts and pledges to the scholarship fund stand at more than $5 million, including nearly $1.5 million donated by Destler and Johnson. In their honor, the program has been renamed the Destler/Johnson Rochester City Scholars Program.
Gifts of nearly $2.7 million to support priority areas of the university including scholarships, the Alumni House, and other initiatives.
"Rebecca and I are deeply moved by the generosity of so many," Destler said. "Our 10 years at RIT have been so rewarding and this honor is a shining capstone for us. RIT will always hold a very special place in our hearts and in our lives."
In May, the university also unveiled the "Destler-Johnson Quad," a plaza on the west side of campus in the couple's honor.
"It's been a grand 10 years," added Johnson. "We're very much invested in the Rochester community, and we're looking forward to our next adventure and to staying involved in the community."